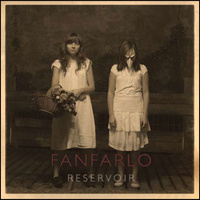 It's hard not to fall wickedly in love with Fanfarlo, the indie-pop five piece out of London. Their melodies are plumb, their rhythms brim with joy, complemented by an array of strings and horns. And lead singer Simon Balthazar coos in such a healthy and enlightening manner that hasn't been heard since the likes of Stuart Murdoch wooed music fans on "The Boy With The Arab Strap." (Yes, I can't hardly wait for the new B&S record as well)
But what remains truly memorable (And immensely important) about Fanfarlo and their latest full-length, Resevoir is how easily it is to slip into a daze and wander amidst your own sub-conscious throughout these eleven lush, gorgeous tracks. In that sense, Resevoir is one of the most intoxicating records heard in years. A track like "The Walls Are Coming Down," which floats with a darling, romantic buoancy and sweeping strings to complement the wave of hooks is easy to get lost in. When you come back to Earth on "Drowning Men," you'll realize that the punching rhythm rivals the likes of Interpol and The National, but just that much lighter. There's nothing on Resevoir that doesn't lack courage, however.
Yet for all the immense, sweeping cuts on Resevoir, there is rarely any room to breathe at times. Each track is so ripe that it is indeed an emotional and engulfing listen. Resevoir can't be taken in with a heavy heart or head; maybe, just maybe, we need more records like this one.
By Joshua Kloke
[Rating: 3.5/5]