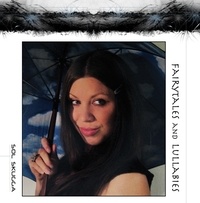 Sol Skugga is coming strong with her eclectic set of songs titled Fairytales and Lullabies.   This young and talented singer/songwriter/producer blends together musical styles such as: classical, rock, pop, electronica and Celtic string arrangements.   Skugga hails from the land of Sweden where she is promoting her third album.   The US and the UK will also get a dose of this Swedish sensation.   Sol Skugga stands for Sun Shadow and this creative artist is definitely casting a bright light over the ever-changing music world.
This female musician has an incredible international appeal that is downright contagious.   Her mere presence alone stands out as a dominant force on this new record.   The overwhelming amount of diversity will leave a good taste in your mouth after hearing Fairytales and Lullabies.
The album starts up with a track titled, "Burn Her", which offers up a lovely arrangement as well as a unique approach both vocally and musically.   Right away, you hear that the pitch, melody and tones are right on the money.   Next up is the title track that includes a dreamy and hypnotic wave of sound.   Track three, "I Had My Share", portrays a light and soft manner while also being packed full of emotion vocally.   Song five, "Letter to Myself", is deeply personal with a mysterious aura about it and the rhythm section is simply great here.   "Quietly Crucified" has emotional and sensual feelings being conveyed while "Say It" includes a weird rock vibe.   Track eight, "Share Tonight", can best be described as international dance-infused pop/rock.   Next up, "Simply Me", mixes together beautiful singing with eloquent playing where you get a sense of extreme elegance.  
Sol Skugga sings her heart out on this one as she performs with so much raw passion.   Her voice, lyrics and music will leave you captivated.   Get ready to enter the exciting world of Fairytales and Lullabies where dreams are reality.   For more on Sol Skugga and her latest release, SKOPE out www.solskugga.com, www.myspace.com/solskugga or www.happyminds.com.  
By Jimmy Rae (jrae@skopemag.com)
[Rating: 4.5/5]