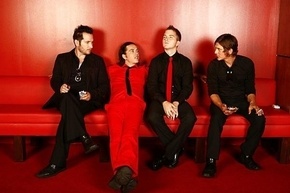 I could kick myself over and over again for declining invitations to see Pale in concert. When you live in Los Angeles, you get used to the over saturation of every kind of band, from your garden variety garage band to your headlining acts. All it took was the first note of the first song I heard to realize that Pale is not a band anyone should overlook.
Comprised of Calvin Stanley, Robb Moore, Stephen Wesson, and Travis Middour- Pale's music incorporates the beauty of life and the soul of rock and roll into songs that can captivate and entertain. In a time where music seems to come more from some socially acceptable, studio engineered cookie cutter, Pale's contemporary rock sound is a representation of their unique and artistic take on life. Their lyrics inspire thought and their sound is both clean and harmonic, skillful and classic. Reminiscent of music legends like the Cure and U2, Pale has that timeless appeal meant only for music that can last a lifetime and entertain as much twenty years from now as it does today.    
And equally as important, Pale's music inspires the dreamer in all of us. "I'm so unrealistic," Calvin shares. "I've had my head in the clouds since I was a kind, and I still can't shake it. I believe that everything is possible with this band. That kind of dreaming heart can really help pull us through some difficult times."
It's not easy being a dreamer, and it's no secret that the road to success can often times be a bumpy one with more tragedy than triumph. It takes an enduring spirit and patience to pursue a career in music. Robb speaks candidly of some of the struggles. "I think with anything it's a lot more difficult than most people think to find a group of people, whether it's a rock band or not, to have a mutual dream and have everybody dedicated to that path and stay on that path. And I think that's something Pale has always been really fortunate with, is all of us have the same drive, and all of us have the same goals. That being said, it can also be a struggle at times because you'll have a couple of different guys in the band wanting to go in one musical direction and another guy with a another idea. Do we tour now? Do we make a record now? Everybody has their own sort of ideas on what the next step is always and getting and keeping everybody on the same page is probably the biggest struggle. And money. Cash flow is always a problem."
[youtube FuYqtw3MoLI nolink]
But at the end of the day, despite who disagreed with who, it's all about the music and how it can touch lives. "If there's a moment that this band can capture," Calvin explains, "where time can kind of stand still, and all of a sudden we're in the center of the crowd and they're there with us. We all can shut our eyes, and they're a part of this moment with the music. The hairs on the back of your neck stand up, and it's just indescribable. And I love the fact that this band achieves that on many occasions. That's the spirit of rock and roll in my opinion, to make the world smaller for everyone and not feel alone and feel loved by this powerful thing that doesn't belong to us."
With a third album on the way, slated to hopefully be released this spring, Pale hopes to share even more of who they are with their fans through their ever evolving sound. Despite the mountains and mole hills they've endured so far on their journey, Pale stays true to who they are and what has inspired them from the very beginning to make music. "Our goal is and always has been to get our music out to the world," Calvin explains. "I think that what we're doing is honest. I just want to get to every corner of the world so we can share our message."
And for those just getting to know about Pale and who they really are, their message is simple. "We love you already. We can't wait to meet you, and we're going to excite you. We're going to turn you on, and we're going to hopefully remind you of what rock and roll music initially was- just a spiritual freedom that happens through music."
Go to www.myspace.com/palerocks for your one stop shop on everything Pale.
Written By: Keldine Hull – keldine_hull@yahoo.com