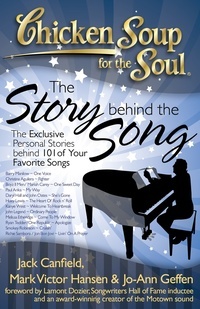 If there were any way I could give a higher Skope rating than "5" on a book review, I would definitely do so for "Chicken Soup for the Soul: The Story behind the Song."
 
The Chicken Soup for the Soul series has been circulating since 1993, with various titles that relate to everyone from individuals to mothers, fathers, workers, lovers…and the list goes on and on. According to their website, there has been "more than 112 million books sold to date, almost 200 titles in print and translation into more than 40 languages." In addition, the series has become a household name, with "88.7 percent of the public" knowing both the name and what it's all about.
 
In "The Story behind the Song," founders of the series, Jack Canfield and Mark Victor Hansen teamed up with Jo-Ann Geffen, who has been in the entertainment business for more than 35 years as an industry exec, and has worked with everyone from the Commodores to Barbara Walters to David Cassidy.
 
The 396-page book features 101 intimate stories behind the songs that have touched our lives, spanning several decades in music history. From classics to contemporary hits, the songs are from every genre — rock, alternative, country, hip hop, R&B, folk, etc.
 
A number of the songwriters got personal behind their songs, such as Art Alexakis, writer of "Father of Mine," which was recorded and performed by Everclear. Described as "autobiographical," Alexakis gave an inside look into growing up in an abusive home and dealing with the emotional trauma set forth from his childhood and on. His lyrics clearly mark his experiences: …"Father of mine. Tell me how do you sleep…with the children you abandoned, and the wife I saw you beat?"
 
Some songs were written just because, such as "Bohemian Rhapsody," performed by Queen and written by Freddie Mercury. As Roy Thomas Baker described it, "The impact is clear since, three decades later, there is still controversy about the lyrics and people still listen to this song. It's purely a feeling thing. It did not directly reflect what he was going through in life."
 
There are great pieces of advice from these stories, which for music lovers, is exactly what we need to hear.
 
"Sometimes a writer's favorite song is not one of his biggest hits," Jeff Barry noted of his song, "Walkin' in the Sun." "The lyrics say that when things have been negative long enough, you need to know when they get good."    
With stories from songwriters Greg Camp ("All Star", performed by Smash Mouth), to Sean Garrett ("Yeah", performed by Usher, Lil Jon and Ludacris) to Paul Anka ("My Way", performed by Frank Sinatra), "The Story behind the Song" has a little bit of everything for everyone.
"For a songwriter, songwriting is therapy, only cheaper" — Richard Marx, writer of "Right Here Waiting."
So true.
For more on "Chicken Soup for the Soul: The Story behind the Song," visit www.chickensoup.com.
 
Author: Erika Y. Gradecki
[Rating: 5/5]