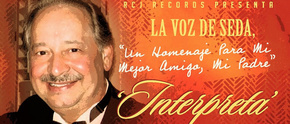 I always say it but music is best performed by those that do it for the love rather than the money & fame. If the music is good, the money & fame will come. My next guest is the definition of doing it for the love. Coming out of lovely Visalia, California is Carmelo Rosado JR. Carmelo just put out a new album, 'Un Homenaje Para Mi Mejor Amigo, Mi Padre' (A Tribute to My Best Friend, My Father) after taking a 30 year break to pursue school and start a very succesful business venture. This new CD was written by the artist's father Don Carmelo Rosado, Sr. with the exceptions of two songs, 11 and 12. Join me as I talk with Carmelo about managing business & music, his relationship with his father, what he has to prove with this album, and much more!
Stoli: There was 38 years in between your first album and 'Un Homenaje Para Mi Mejor Amigo, Mi Padre.' Why such a long period of time and what were you doing instead of music?
 
Carmelo: I put my recording career on hiatus for a few decades while pursuing the entrepreneurial life. In lieu of the music environment being so competitive, my father felt I would have an upper edge if I had any education as a foundation to support my future music's endeavors.   Thus, I got very involved in the business world of Insurance and other personal projects and quite frankly, time just flew by.
 
Stoli: Your new album translates to 'A Tribute To My Best Friend, My Father.' Can you describe your relationship to your father and what made you want to dedicate this album to him?
 
Carmelo: Our relationship is very tight.   We cherish the old fashion values and have always been a very close family. My father is a very gifted poet and song writer however, when young, very poor and lacked the monetary means and contacts to get his music published and heard by the general Latin public. My father is seventy seven years old and I strongly feel that this is the best time to honor him by interpreting his beautiful songs and so, I sing them with my heart and soul.
Latin Radio station in Riverside/San Bernadino La Area Feature Carmelo Rosado JR:
Stoli: What traits does your father have that fathers today should strive for with their own sons?
Carmelo: It's a team effort: Both of my father and mother have always been very loving, understanding, patient and encouraging parents. Always there when needed. In today's world wide environment, these qualities are more then ever needed and a must have to be successful parents.
 
Stoli: Your father Don Carmelo Rosado, Sr wrote all but two songs on this album. Is your father a musician as well or a songwriter and how does he feel about your performance of his songs?
Carmelo: My father is a guitarist, poet and song writer. He writes 'the old fashion way' -with a lot of heart and emotion.   What I have attempted to do through my musical arrangements and voice is transcend that feeling into today's contemporary music environment without loosing the passion that accompanies the real poets intensity. And by what a recent TAXI review had to say about my music,-I quote:
'Track impacts with strength and has the sophistication and romance in its sound and performance resulting in an authentic yet contemporary recording. The track showcases a formidable vocal performance -A 'Must Hear' romantic Latin ballad TV/film material'   -it seems like this is being accomplished.
Stoli: The album is in spanish. The music is beautiful so are you concerned that if you do not speak spanish you cannot enjoy this album?
Carmelo: Music is an international language and expresses itself through its melodies' sounds. If you love music, it doesn't matter what language you articulate in, you simply surf the waves of its melodies and ride the very soul of its heart until you are fulfilled and complete at which point you say; Wow! What a beautiful melody, but, you didn't understand the words, did you? Yet you felt it speak to you through its sentiment and feeling.
Purchase 'Un Homenaje Para Mi Mejor Amigo, Mi Padre':
Stoli: You run your own label RCJ Records. What advantages does owning your own label and being an artist on that label offer you and are you looking to sign new talent to RCJ Records?
Carmelo: There are many advantages;   One advantage is that I have full control in its production. Example: I perform all the vocals, the guitar and requinto parts and have full control of the musical arrangements.   However, I wouldn't mind signing with a major label like Sony or Columbia records.
Stoli: Besides being a great musician you are an accomplished entrepreneur. How do you find time to balance both music & business and how does your business skills benefit your music career?
Carmelo: Currently I have qualified staff including my beautiful wife that help run my business and this has given me the time to rekindle my music spirit and get back in shape.   I don't consider this a job but rather a fun hobby.   I love sharing my music with the public. My business education provides me the upper hand in avoiding the pitfalls that are generally encountered due to the lack of business dealings and experience.
Stoli: Being that you are far from being a starving musician, how do you determine where you would like to take this album and your career in general?
Carmelo: Almost everyone loves music, but, not everyone understands its complexities and the difficulty in achieving ones goals in this very competitive environment. This,in fact is one of the reasons many talented musicians drop their careers. Through the web page distribution opportunities, my sincere attempt is to have as many people as possible listen to my father's beautiful melodies and enjoy them as much as I do. In the final finally, I honor my father while he can still enjoy that honor. Mr. Jeffrey summarized it very well In his concluding comments of the review of my music NOTE: review done by Jeffrey.Henckels@nielsen.com
Rosado's effort will appeal to a mature audience captivated by tradition, with his tender but masculine vocal imprint, production that tickles the timeless and lyrics that stand by generations of love and loss. He very well may have found his greatest business venture in song.
It may fall where it may fall, in the end I honored my father.
Stoli: The reviews on the album have been incredible. How does it feel to read that your music is so well received even after such a long hiatus?
Carmelo: In all sincerely, I'm flattered!   I honestly did not expect these types of reviews.   I think their just being nice to me because I'm getting old Lol.   I don't consider myself a great vocalist, I just sing with my heart.   It would be a great honor to have Vicente Fernandez or his son Alejandro or Pepe Aguilar interpret my father's songs, now that would be GREAT!
Stoli: I do not have to tell you but the US is facing many challenges such as the recession. What makes you feel optimistic and excited about the upcoming new year 2010?
 
Carmelo: Undoubtly, we have all been affected in someway by the current world-wide economic conditions. Music is a gift of God and as we receive it, we should share it.   Hopefully to some families, in 2010 my humble music will make a positive difference in their lives.
Stoli: What is coming up for you and where can readers get more from Carmelo Rosado JR?
Carmelo: I'm currently working on producing a video showcasing one of my father's songs Tilted:'Brisas del Palmar'. My new CD and this video can be found at 'Best Buy' markets and on my music Web page: www.carmelorosadojr.com   You can also listen to my songs and leave your comments on: http://www.jango.com/music/Carmelo+Rosado+Jr   If you would like an autographed copy of my CD visit my web page for my physical address.