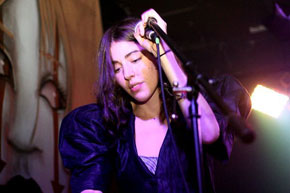 I met the members of Chairlift at Howley's, a local diner on South Dixie Hwy, and a popular destination for the cool kids that make up the small hipster contingent of West Palm Beach, FL. The band was sitting in the corner table in the front section of the restaurant with a small group of people.
I entered the section and introduced myself to Patrick who had just recently spoken with over the phone and recognized from the many pictures circulating over the Internet. I introduced myself to the other member of Chairlift, Caroline and sat down. The third member Aaron was absent. Patrick's girlfriend and some family members were there. It was a casual atmosphere and immediately the vibe was relaxed.
The group had just spent the day thrift shopping. Caroline showed off her new top — a red frilly long sleeve blouse. While we waited for the food we got into the interview. We talked about inspiration and the band was more than happy to share the music that inspired them. Patrick revealed his current obsession, Marshall Allen and the Sun Ra Orchestra. He explains "Sun Ra, he was a big free jazz guy in the 70s. Supposedly he's from Saturn or Jupiter and he started this commune back in the 70s and he would tour as Sun Ra with his orchestra".
We turned to the music that was on Caroline's iPod where we got stuck in the D section. Caroline shared some of her favorite bands and the reasons why. Her face lit up when explaining what is was about the music that really got her. She ran through the pertinent D section highlights, Death In June and Deprecation Guild were two that stood out among the others. She continued ". I've been listening to way too much Death In June. I've recently found out that the girls that sing back up on these Death In June songs, I am addicted too like this song "Fall Apart" and another good one is "To Drown a Rose". The female backup vocals are so cool and I just found out those girls are in a band called Strawberry Switchblade which I got in to from a completely different angle and I put two and two together. Strawberry Switchblade is insane."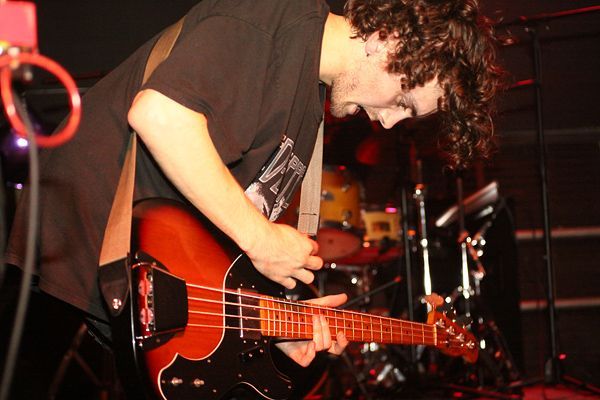 She explained what appealed to her about Depreciation Guild, "Depreciation Guild are so awesome because they sound like a lot of 90s shoegaze bands that I really, really love like the Cocteau Twins and Chapterhouse, and Slowdive. I am really into old stuff too but Depreciation Guild take it into more a glitch electronic territory. Those boys have beautiful voices and they can write amazing melodies."
Browsing the iPod seemed incredibly fitting for Chairlift who owed a lot to their recent buzz to the placement of "Bruises" in an iPod commercial over a year ago. I asked what kind of impact that spot had on their reputation. Caroline admitted that it did play a part but there was more to the story, "One the iPod commercial came out; two our album was actually released last week, so press was rolling in. We were getting press for the first time. Three we started really touring. Four we signed to a new label that late fall too. It was kind of a lot of things hitting all at once so it was hard to say what was the iPod commercial and what was really perfect timing chiming in at the same moment." The perfect storm of media coverage, the new label, and touring all culminated to create a rather hectic time for the band, "We were totally overwhelmed that fall and winter and people were sending us interviews, asking how did it feel to be the new it band. We had no idea what they were talking about. We were just scraping by, by the skin of our teeth."
The fame was a totally new experience for the young band formed in Boulder now living in Brooklyn. Recently they were on a short stint with The Killers opening for shows in Florida. Caroline was not shy in expressing her admiration for the band, "We did a cover with The Killers for a couple of those shows. It was amazing to be on stage doing sound check because we rehearsed the cover and just seeing the different vibe of their sound check. Seeing Brandon warm up with his tea in his hand. It was amazing; it was so inspirational. He is so good." They were also able to relate based on their mutual love of music, " They're dictionaries they are walking music dictionaries. They're not jaded, blasais. They're not cliché rock stars. They are the biggest music fans I've ever met."
Playing with The Killers also exposed the band to playing stadiums and much larger venue than they were used to. Caroline related that experience, "I remember thinking it was really cool, you look out and I couldn't see anyone's faces. It was a sea of little cell phone lights; it was like a moving constellation. But its really different playing a club of a 150 kids that are all sweaty and right up in your face." She liked the experience and admits it makes sense with their style of electronic, ethereal music that benefits from large spaces. But she confessed that she liked the intimacy of the small shows. "I love hearing the toms resonating all over the room and hearing my voice going over a huge space. I think that's kind of implied in a lot of our songs actually that it's vast, like a big cathedral type space. But in terms of human interaction it feels a little bit cold in a stadium." The smaller show affords that in your face interaction that the band craves. But both Patrick and Caroline agreed that there is a time, place and space for what would work at certain times. Given more time and bigger set ups for larger shows they do see themselves doing both types of performances.
The music craftwork is what really sets Chairlift apart. They look at music as an adventure and a path to discovery. This is no more apparent anywhere than in the music for haunted house project that Caroline and Aaron had first collaborated on before officially forming Chairlift.   Caroline explained "At the time I started working with Aaron because was making folk songs that I really liked that I was playing backup on. To play backup I got my synthesizer. I was experimenting; I really didn't know how to use the thing. It was this big red blinking machine that looked a little spaceship to me." She goes on, "And that was our way of kind of experimenting making electronic loops and making ambient atmospheres and I was getting to know the synthesizer by listening to how different sounds made us feel, making really static atmospheres instead of like songs, actually just isolating sounds and letting them sit for a long time in a static environment and Aaron would use his loop pedal to make layers and layers and layers of these sounds, we used our voices and guitar and whispers and we go in the bathroom and reverberate sound off the tiles".   They never ended up using the project for any haunted houses but many of the sounds they created during this project made it over to their first Chairlift album.
The members of Chairlift are lovers of music and the craft of making music. That love makes their process just a simple extension of themselves and that is why it comes off genuine and organic. Whether recording an album, writing a song, performing for a crowd large or small the passion is never in short supply.
Photos: Norrel Blair