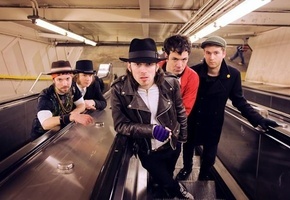 On the week of Obama's announcement of his escalation of the war in Afghanistan the new rock band Outernational responded with a sharp and provocative music video with Graphic Design by Ron Wilhelmsen.
Speaking to the reality that confronts those who will fight Obama's war, lead singer Miles Solay sings:
Your planet's burning war and torture's madness
Bodies burning, whole countries torn to bits
First you're cannonfodder, now you're accomplices
I can see the scars from your arms to your conscience
Outernational's new EP, "Eyes on Fire," produced by Rage Against The Machine's Tom Morello, will be released on December 6, 2009 with an all ages concert at The Highline Ballroom in NYC. Tom Morello is also featured on vocals and guitar on the EP's "Fighting Song." The EP precedes a national tour at the end of January followed by a full-length album also produced by Morello.
"Sir No Sir"
[youtube 5FXftDcwL-w nolink]