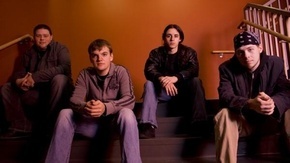 It was just so hard to get the wheels rolling after a long holiday weekend. I really need some authentic rock music to get me going. That is where the boys of Downcast Theory come in. These guys have been together since 2007 and have already released two CD's and an LP independently. I found these guys to be very exciting and there music is hard but very catchy. Join me as I speak to the guys about how they got started, what they think of Top 40 radio, music's digital age, and so much more! You need to check out their smash single, "Prayer!"
Stoli: You have been together since 2007 and have already put out two albums. Was that the initial plan or did the new music just flow?
Downcast Theory: Everything just started to flow after our first show.   We decided to record our first record 'Ataraxia' in November of 2007 after only a few shows and things moved quickly from there.   Coincidentally, 'Damaged Calm' was recorded and released a year to the day after the initial album was released and since then things have continued to move.
Stoli: What was the inspiration for four guys from New Jersey to form Downcast Theory?
Downcast Theory: Jake (Lead Guitar/Vocals) and Matt Simon (Lead Vocals/Guitar) were working on an acoustic project and it eventually turned into a band.   Matt "Raundawg" Raunick (Drums) was Jake's bass player in another band and decided to come to Downcast Theory as our drummer. Kenny came last after being recommended by Matt Simon's brother.   We all just wanted to play rock music and have a good time while doing it.
Stoli: When you first started creating music did you all share the same vision for what you wanted to create & record?
Downcast Theory: We really never talked about our musical vision.   The great thing is that we all have very different tastes and that makes for some great songwriting.   We challenge each other to leave our own comfort zones, and its actually helped things come together organically and we haven't questioned it for even a second.
Stoli: Matt Simon has a catchy & contagious voice. Was it obvious to all that he would be the lead singer and does he also act as the leader of the band?
Downcast Theory: He was definitely the lead singer from the start.   He has been the leader from the business side of things, but when it comes to the music, we all lead and we all follow.   We are not just one person.   We are four guys with a common goal and love for the music we make, and the beauty of it is that everyone brings something important to the table.   If one piece was to go their own way at some point, this band would never be the same.
Stoli: How do you manage to find time for your own personal lives & also make time to the band?
Downcast Theory: It definitely can be hard to find a balance, but at the same time, this band is an important part of all of our lives, so it is impossible for it to not be a part of our personal lives.   We all love what we are doing and its going to impact every aspect of our lives.
Stoli: Where did you record 'Damaged Calm' and who did you work with on that album?
Downcast Theory: 'Damaged Calm' was recorded at Frankensound Studios in North Brunswick, NJ. The record was produced by ourselves as well as our good friend, Ryan Marsa, who mixed and mastered the record as well.   Our engineer was Vince Carducci–truly awesome guy that made the process a lot of fun and contributed to the music in ways we never expected.
 Stoli: If I only had $.99 and wanted to download a song from that album what would you suggest?
Downcast Theory: Matt-Prayer; Jake-A Song For DJ; Kenny-Break Away; Raundawg-Get more money!
Stoli: What has the digital age offered Downcast Theory that you would not have had 10-20 years ago?
Downcast Theory: It is definitely a double-edged sword. The digital age has helped us reach fans, venues, and promotors with such ease.   At the same time, it makes the pool of bands out there much deeper and it makes it much harder to get the attention of a label. We love the opportunities it has afforded us so far but we know it makes our job a bit harder as well.
Stoli: You guys have played venues all over New Jersey. What has been your favorite venues and what kind of people come to a Downcast Theory show?
Downcast Theory: Starland Ballroom has been the favorite for all of us. We played there as an opener for Drowning Pool and it has been the highlight for the band. All kinds of people come out to see us. The age range is quite broad and we have a pretty even spread of male and female fans. The common denominator is this: fans at a Downcast Theory show always want to have an awesome time and we try our best to not let them down.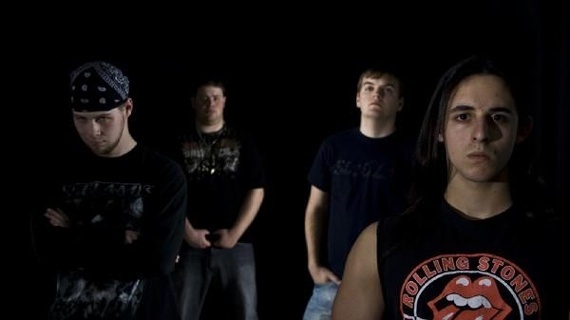 Stoli: When you listen to Top 40 radio what do you think about what you hear?
Downcast Theory: We hear music that has been overproduced.   These songs over-saturate the radio to the point where even a great song just becomes annoying.   Top 40 is rarely our music of choice and its a bit of a shame that the industry has become what it has.
Stoli: Please describe the scene of a recording session and what goodies must you have to get creative?
Downcast Theory: We basically need three things for a recording session to be successful: instruments, food, and lots of caffeine.   And more importantly, we need one another at all times.   We always bounce ideas off of one another throughout the whole writing process.   When we get in the studio, it is treated much like a band practice.   We take this time very seriously, but we have a great time, the whole time. It seems someone is always passed out on a couch, especially if Matt is doing a lot of vocal takes because everyone else's job is finished, but if its time to buckle down and lay down some tracks, we are always ready to rock.
Stoli: What bands that you grew up on have had the most influence on the music you create today?
Downcast Theory: Matt-Sevendust, Shinedown, Alter Bridge;   Jake-Alice in Chains, Black Sabbath, Matthew Sweet;     Kenny-Metallica, Iron Maiden, Victor Wooten; Raundawg-Led Zeppelin, Guns 'n' Roses
Stoli: Is your band run like a democracy and what roles do each of you play?
Downcast Theory: This is absolutely a democracy.   If there is a discrepancy in opinion, we vote on it.   That has always been the best way to get through situations where heads collide.   Our roles shift from day to day.   We have all played peacemaker and have all been the antagonist–it keeps things fresh!
Stoli: Do all four of you share the same long term goals of the band and what motivates you all to create music?
Downcast Theory: We all love music. We have enjoyed every minute of writing and performing music together and our goal is to continue to grow as a band and hopefully be able to do this for a very long time. We all want to play music for the rest of our lives, and if it were with this band, it would be a dream come true. And if we are lucky enough to tour the country and play the music we've worked so hard at, we wouldn't be able to ask for more.   And as always, one of our goals as a band is to open for Sevendust!
Stoli: What is coming up for Downcast Theory and where can readers get more from you all?
Downcast Theory: We will be playing The Crossroads in Garwood, NJ on December 12th and will be headlining The Saint in Asbury Park, NJ on January 22nd.   Both shows will include our good friends from West Gate and Jaded Faith.   We are also writing for our next record, which will probably be out next fall.   We are constantly adding shows to our calendar, so be on the lookout for shows that may pop up along the way!
http://www.myspace.com/downcasttheory & http://www.facebook.com/pages/Downcast-Theory/7379949451