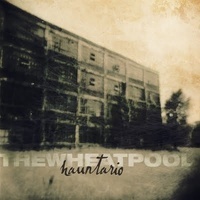 Sombre bands often get backed into a corner. Listeners often feel that their records are only worth being heard on rainy, hungover Sundays. Such is the case with The Wheat Pool and their sophomoric release, the appropriately titled Hauntario.
But there's more to this Western Canadian alt-country outfit than just chugging tales of lost loves and the booze and drugs that fills gaps. There's a beautiful resilience on Hauntario as well, one that doesn't dissapear after countless listens.
Opening with the acoustic-driven, Dylan-esque melody of "This Is It," its easy to understand why The Wheat Pool has achieved success within Canadian mainstays, including CBC Radio 3. "This Is It" rolls along with a dusty charm, before bleeding into "Lefty," one of the many eulogies for Ontario, a place so many Western Canadian musicians fight so hard to conquer and rarely do.
The pain and anguish felt by The Wheat Pool is palpable, not only on "Lefty," but throughout the rest of Hauntario. An immediate sense of honesty and authenticity is formed within these slow and at times desperate tracks. But the desperate themes never weigh Hauntario down. If anything, they give credence to The Wheat Pool's unmistakeable ethos; Canada is one tough country to tour, and ultimately, its a tough life that so many around them lead. But its a good thing there are records like Hauntario to get folks through those tough as nails days.
By Joshua Kloke
[Rating: 2.5/5]