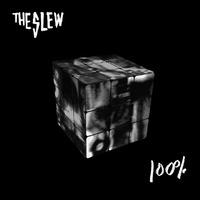 Admit it: the idea of legendary Canadian Kid Koala teaming up with bassist Chris Ross and drummer Myles Heskett (The original rhythm section of Wolfmother) has you intrigued at the very least. Yet there's the distincy possibility you're salivating beyond control. But the intriguing combination that The Slew are, there is the possibility that 100%, the debut album under The Slew moniker, could fail under ridiculously large expectations. Fear not though; this is a mash-up of epic proportions.
Fierce and chunky guitar licks loop with with a potent urgency throughout 100%, complimented by Kid Koala's timely scratching. There's a swift cerebral edge that strikes at the most opportune times on 100%, including on the hypnotic "Problem Child." But Koala still knows hot to cut a rug and get all visceral on us; tracks like the full-on freak out of "You Turn Me Cold" are a glaring example of how well Koala knows how to beat the shit out of listeners with a certain righteous touch.
Ultimately, 100% is a hip-hop record, utilizing all manners of hip-hop technology including tape echos, spring reverbs and oil-can delays to create a soulful yet beasty listen. The tinges of blues-rock flare that Koala samples and leans on the Wolfmother crew for shows us how keen he is on expanding his sonic perimeters. 100% works on a number of layers, all deserving to be heard, but the fact remains; The Slew were an experiment, and man, did it ever succeed.
By Joshua Kloke
[Rating: 4/5]