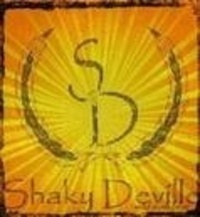 Named after the classic '76 Cadillac Coupe De Ville, Shaky Deville are revvin' their engines loud on this one.   Lead singer and guitarist, Matt (M.S.B.) DeVille fittingly enough, actually owned this car thanks to his dad.   "Best car I've ever owned" are DeVille's exact words, but will this album be the best thing I've ever heard?   One thing is for certain; there is nothing shaky about the performance here.   This group seems to have one finely-tuned CD here with no current adjustments needed.  
The band is also made up of bassist Johnny Foodstamp and drummer Todd Slocum.   These three musicians create a powerful sound of their own here with a very rock-oriented feel.   When you look under the hood of this new model, you will see that Shaky DeVille in fact are built to last.  
Right away from the beginning of the album with "M.V.T.", you hear that grindy & gritty singing style coming from Matt's voice.   The vocal approach is forceful and full of raw energy.   Next up is "Let's Roll", which comes whizzing by with a very fast, sped-up flow.   Song three, "Prayers", actually incorporates elements of blues, rock and a spritz of country & bluegrass.   "You Had It Good" is one of my favorite numbers where I was thinking "Oh yeah man!   They're rockin' the shop like there's no tomorrow!"   The CD speeds on with a fast & punchy, petal-to-the-medal track called "Alabama 10".  
What I really enjoyed about this record was just the pure rock mentality that came across as energized.   This new project is all about having fun and jammin' out with friends.   Shaky DeVille definitely hit the gas on this CD and never seem to let up from beginning to end.   I also was into the cool guitar playing; can never get enough guitar rock, riffs and solos.   For more on Shaky DeVille and their new, freshly waxed release, SKOPE out www.myspace.com/shakydeville.  
By Jimmy Rae (jrae@skopemag.com)
[Rating: 4/5]