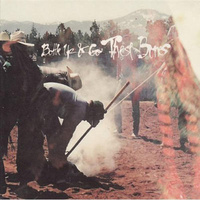 Haven't we heard enough of blues-punk power duos? If anyone ever asks you that question, ask them if they've ever heard These Bones, the debut EP from Brooklyn's Bottle Up & Go. Sure, whoever you're engaged in a conversation with might insist that Bottle Up & Go are a two and a half piece band. While they do count saxophonist Andrew Carrico as a member of their lo-fi, snot-nosed outfit, These Bones cranks with such a violent efficiency that you'd hardly notice it.
Originally conceived as a Leadbelly cover band, these two sonic outlaws have borrowed exactly the right elements of Leadbelly's down and dirty sound. And all the while, they take notes from the emphatic blues-punk duos of yore, including The White Stripes and The Black Keys and crank out their swampy jams with a certain rustic charm and swagger. The boozy yet expertly crafted "Low" is a highlight, not only because of the raw sexuality present within the track but because we're treated to one of Carrico's better sax solos. Short but sweet, Carrico compliments Bottle Up &Go with a delicate touch.
Yet Carrico isn't the only player worth mentioning on These Bones. Drummer Fareed Sajan drives the frantic beast that is "My Yoke Is Easy" while singer/guitarist Keenan Mitchell howls at the moon on "Ain't Going Down," adding those haunting, unholy tones that all great blues-punk duos require.
It's oddly fitting that These Bones should be the first recorded piece of music we hear from Bottle Up & Go. Boozy yet potent in nature, this seven track, raging barnburner lasts exactly as long as it takes to down a Jack and Coke. Which is exactly how long it ought to take.
Sure, you're left thirsty for more at the end of These Bones. But let's face it; much like your thirst, sonic devils such as Bottle Up & Go can't be contained for long.
By Joshua Kloke
[Rating: 4/5]