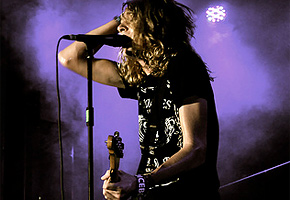 Having graduated from an entire summer of Warped Tour, pop-punk pretty boys Sing It Loud are back in the clubs, and this night they were joining a sold-out crowd with headliners and power-pop rockers Forever The Sickest Kids.
The scene has been kind to Minneapolis, Minnesota's Sing It Loud. After gaining a well-deserved amount of exposure from opening for Cobra Starship on last year's Sassyback Tour, the band was now on the radar. Everything following that led them up to playing an entire summer of Warped Tour, proving themselves to the exhausted crowds each day.
Through the trials that every band must endure on their way to the top of the music scene, it would not be a surprise to see Sing It Loud become regular headliners soon. Their catchy, pop-punk songs easily win over the regulars in the scene of the genre, and don't have to ask the fans belting out each line of the band's music to know that.
As separate members of Sing It Loud graced the stage, frontman Pat Brown finally appears on stage and the band quickly launch into "Best Beating Heart". Within seconds, arms shot up all over the Culture Room, showing off white bracelets marked with "Best Beating Heart" in red. Following it were a batch of new songs, and a flawless performance of the band's break-out single, "No One Can Touch Us.
On-stage, the band definitely have a chemistry. Frontman Pat Brown was occasionally joined by Kieren Smith, Nate Flynn, and Ben Peterson when audience participation was a must, dancing and clapping with each other. As rowdy as the crowd was, it was a surprise to see none were pulled in whenever they got too close to the edge of the stage. And when they weren't facing the crowd, the boys were exchanging funny faces and gestures with each other, ultimately showing the real reason why we all, and should, go to shows for. To have a good time with those closest to you, and that is what Sing It Loud are now more than happy enough to be doing on a regular basis.
WORDS AND PHOTOS BY NORREL BLAIR
HEADER PHOTO BY MIKAYLA DAVIS