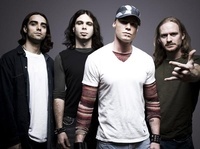 Rise For Order is a hard rock/metal group based in Toronto.   Four members included are:   Johnny Goltz on lead vocals, Trevor MacLeod on guitar, Mad Choyles on bass and Jorge Pereira on drums.   It's also worth noting that their producer, Steve Thompson, has worked with Guns N' Roses, Metallica, Korn and Soundgarden.   The title of this album sums up the attitude and overall feel I experienced while listening to this record.   This foursome actually got the name for the album from another source that said "they ripped it up" at a previous show.   Besides ripping it up, Rise For Order is tearing it up and rockin' it out on this full length debut release.  
With elements of hard rock and heavy metal I picked up on, you get a real heavy dose of music here.   This group plays with an aggressive amount of energy that comes across loud & clear.   I even picked up on similarities in style to that of the heavy metal rock group, Distrubed.   To be blunt, Rise For Order's Rip It Up rocks fuckin' hard!   The CD actually features four previously released tracks from their 2007 self-titled EP.   Buckle up and get ready for one intense audio thrill ride here!
The record starts up with a track titled "Weed and Hooker Spit" that offers up a cool ass beat and awesome guitar playing.   Next up, "Paralyze", can best be described as a musical explosion of power & might with hellacious reverb at the end.   Song three, "Freeze Frame", is metal all the way and definitely not your J Geils Band version.   This song has plenty of angst and a whole lot of intensity.   "Out of Control" has a heavy-hittin', hard-rockin' flow while "Cut To Size" could easily be a radio hit right now.  
What I loved the most about this record was the overload of fierce energy being displayed by all four members.   They are bringing to you a revved up sound that will buzz loud in your ear drums.   Goltz' vocal approach was powerful & exciting while MacLeod's guitar playing was just kick-ass.   Choyles added some solid bass lines and Pereira was definitely drum beat savvy.   For more on this heavy rock band, Rise For Order and their new release, Rip It Up, SKOPE out www.myspace.com/rfomusic.
By Jimmy Rae (jrae@skopemag.com)
[Rating: 4/5]