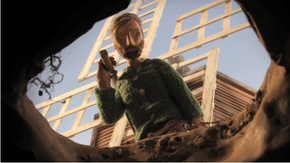 Rhode Island trio The Low Anthem have released a brand new stop-motion video for the lead song, "Charlie Darwin" on their Nonesuch debut,Oh My God, Charlie Darwin.   The band has been touring the US with Blind Pilot, and after a brief stopover in Europe, will finish out the year with Josh Ritter in December.
The video for "Charlie Darwin" was produced by End of the Road Films.   Glenn Z Taunton and Simon Taffe, a portion of the design team behind The End of the Road Festival, assembled a small team of painters, carpenters and handymen at a studio in Sussex, England to craft the stop-frame animated video for The Low Anthem's "Charlie Darwin."   The crew and designers worked sleepless nights to create a film that captures the hand-made look stop-frame animation is known for.
The Low Anthem – Charlie Darwin – Official Video from End of the Road Films on Vimeo.