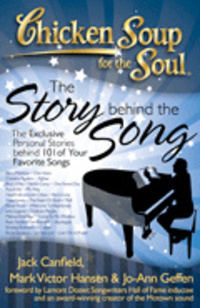 As part of the feel good series penned by Jack Canfield and Mark Victor Hansen, the two have collaborated with Jo-Ann Geffen on a book filled with 101 stories behind popular songs.   I knew many of the stories already (having been working on a book of this sort myself), but there was a lot of fresh information.     Writers like Tom Petty, Daryl Hall, Lamont Dozier, Paul Anka, Warren Haynes, Mick Jones, Barry Manilow, Clint Black, Carly Simon, Neil Sedaka, Melissa Etheridge, Iggy Pop, Ritchie Sambora, chronicle one or more of their hit songs.   Some of the songs that are explained are Breaking Up Is Hard To Do, My Way, Lust For Life, She's Gone, Crusin', Livin' On A Prayer, It's My Life, and That's What Friends Are For.   It occurred to me that some of the songs are almost direct polar opposites of another song contained in the book.   A diverse bunch of songwriters to say the least!  
The band or individual that recorded the song is noted at the beginning.   All of the genres from pop, rock, soul, etc., are covered here.   As most songs are about personal experience and relationships, some don't tend to make a lot of sense, and many of the stories are intriguing.   The almost 400 page book makes interesting reading, and at times makes you laugh when it hits home.   The real names behind some of the song names are revealed, along with the interesting reasons behind the illusion.  
I promise that you'll find something here that you can individually identify with.   Like a wise man on TV once said, "Wrote a song about it!"
A great gift for the person whom you don't have a clue on what to get them!  
By R.M. Engelman
[Rating: 3.5/5]