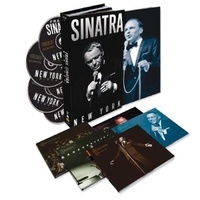 I will admit that if it was not for my absolute obsession with Mafia movies & shows like Goodfellas, The Godfather, and Sopranos I may not have such a love for the music of the legendary, Frank Sinatra. So when I was pitched to review the brand new box set of CD's and a DVD of Frank Sinatra performing in NY I was thrilled. I honestly feel that my love for the music of Frank Sinatra makes me a more well rounded music enthusiast today.
First off I want to talk about the presentation of the box set. You do not get just a collection of CD's but a masterpiece. Each CD & DVD is in its own case. There is also a booklet filled with pictures and text that are great to look at while listening to the cD's. The box is so classy that it now sits in my office on my bookshelf.
I usually can just put an album on in the car or gym and listen and enjoy it. This was special in that I had to set the mood. A nice bottle of Merlot, surround sound on, and the 60 inch plasma to boot, with the lights dimmed. It was not like I never heard Sintra's music before so atmosphere and listening experience was crucial. As the wine flowed and the music played I began to feel as though Sinatra was live in my living room. It was amazing.
The DVD & CD's are just incredible to watch & listen to a legend perform. The way he serenaded the crowd and made smoking look safe & cool. Never the one to hold his tongue it's great to hear him in between songs speak on things important to him.   After watching and listening I could only think about how they don't make them like that anymore.  
Words truly cannot do justice to what you will experience with 'Sinatra: New York' so here is a listening party to offer a teaser:
Usually when Skope reviews an album it's the artists that thank us. In this case though, I want to thank Rhino/WMG for sharing this incredible box set with me. The millions of Sinatra fans and admirers will love this collection like I will for years to come.
Review By: Mikey Frieds
[Rating: 4.5/5]