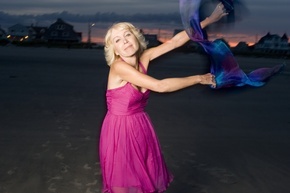 Mirana Comstock is ½ of the group known as Theory of Tides.   Comstock handles vocals, percussion, keyboards and songwriting while her husband, Rick Comstock, takes care of guitar, bass, percussion and producing.   Infectious dance beats are heard along with hip-hop, pop, techno-ish, trance-like, club-worthy and tribal-sounding vibes.   Everything appears to be fresh & original with a very hip & modern feel.   Futuristic flows come crashing in with this debut release from Theory of Tides.   Mirana's vocal & songwriting ability is impressively portrayed on this new record as well.   I had a chance to talk with this talented artist about the new album and everything else in between.   Enjoy the fluid conversation with Mirana Comstock of Theory of Tides.
Jimmy Rae:   First I was dying to know more about the group title Theory of Tides; I know that it originated from scientific theories dating back to the times of Newton & Galileo.   I also know that your band name means "The dynamics of fluidity, the pull of bodies of motion, the ebb and flow of attraction…"   First I'd like to know, what does this title mean to you personally?   We are all wanting to hear this answer come straight from the heart without any scientific interference.   Second, being that there is a heavy scientific presence behind the name, how then does this flow into your music?   Lastly, why did you and your husband, Rick Comstock, decide to place major emphasis on the Theory of Tides?   How did that come about?
Mirana Comstock: I was raised in NYC with the Hudson River (actually, an ocean estuary) right outside my bedroom window. Rick summered at the Jersey Shore. We were married at Race Point Beach in P-town and now live a few houses from the open Atlantic…so, yeah, the ocean really does resonate with both of us.
When all the different elements that make up Theory of Tides started coming together, the one thing that seemed to define it the most was the way beats, sounds and emotions flowed over each other. We had gotten back into club dancing and feeling that sense of movement seemed to be at the core of where we were going musically.   Our initial names involved variations on Fluid and Fluidity. But there were too many other bands with similar names, including The Fluid, who had played with Nirvana. As an advertising copywriter who had named everything from hair products to Timberland boots, I felt even more pressure to get it right.
While researching fluid dynamics and oceanography, I came across the term Theory of Tides. Its scientific meaning had so many correlations to our music, it was uncanny. Being about the science of nature also reflected the digital aspects of our recording combined with live instruments and vocals, as well as raw, natural emotions. To quote another phrase also sometimes used in conjunction with scientific discovery, it was definitely a EUREEKA! moment.
Jimmy Rae: I see that you and Rick started in a Jersey/NYC-based cover band in the 80s; curious to know how much has changed since those days of big hair and bigger hair bands?
Mirana Comstock:   Well, I'm happy to say we were never really a "big hair" band ourselves. Longer, yes, bigger…in terms of extensions, teasing, mullets…no. As a cover band in the 80s, we did a sort of mixed bag that included everything from Fleetwood Mac to Heart, Bad Company to Badfinger. As an original act, Sighs Five, we played clubs like rock mecca Great Gildersleeves which, in turn, played host to a lot of hair bands, for sure. As did SoundSpace, the music studio we built and ran in NYC during that period.
But one thing you had to say about all those bands, they really could play their instruments and put on a show. Nobody was lip synching or auto-tuning those performances. I think the wave coming in, however, did everybody a favor in some ways. They couldn't play as well technically…no drum solos!…but their influence tightened up the writing, shortened the songs, made things more intense and compact. Rick is an amazing guitar player and can really wail out on leads…but our sound is about using that as part of layering…a shimmer of sound here and there…not okay, here comes the lead, time to show off.
Jimmy Rae: I could tell Mirana that there were a lot of emotions being evoked by you vocally and wondering do these powerful feelings just happen suddenly as you sing?
Mirana Comstock: In addition to music training at Music and Art and Juilliard, I also studied acting at HB Studio and Lee Strasberg in NYC. So I approach singing as an actor, as well as a musician.   One of the most important things I learned is that you can't be the audience and the performer at the same time. Ideally, you get so far inside the material you can't hear yourself at all, you just feel it. When I surprise myself on playback…that's when I know I've done a good job!
In addition, as songwriter, I can connect with the words and feelings so much better than doing somebody else's script. It is, after all, my story. But at the same time, because words and music usually arrive simultaneously for me, in one rush, if I can't get into it during a recording session, it's very hard for me to "fake it"…the phrasing just won't come out correctly, it can all become a jumble of words.   I need the emotions to sort it out for me and put it all where it belongs.
Jimmy Rae:   I noticed that you have had the pleasure of playing at some pretty hot spots over the years such as: CBGB's, Great Gildersleeves, Trax and The Bottom Line.   Some good times I bet and would like to ask what was your favorite place to play at, if you had to pick?
Mirana Comstock: That's a tough question; they all had their particular pleasures. I can still remember the sticky floor at CB's and the guys guarding the bathroom while I changed in it because the dressing room was even worse than the bathroom!   House soundman Jimmy became our touring soundman for a while, too. Trax had a really clean sound system and was a music biz hang-out…we actually shot one of our Sighs Five videos there in exchange for a free gig. Then, of course, we had seen The Police on their first tour, Crowded House, Squeeze, a lot of amazing acts at The Bottom Line, so it was nice to be a part of that scene. We did shows for WNEW-FM and opened for the Joe Perry Project there.
But, all in all, I'd have to say Gildersleeves was our home away from home. It was a big club with a huge stage, balcony, great lights…a real rocker vibe. Bands like JGeils performed there and Spinal Tap honed some of their mockumentary moves on the crowd, too. We became a semi-house band and could pretty much play there whenever we wanted to, so it was a great place to connect with fans and try out new songs. And the Hell's Angels were headquartered right down the street so they functioned as bouncers, keeping things cool inside while the Bowery bums and junkies tried to make off with your equipment outside. Lots of memories there!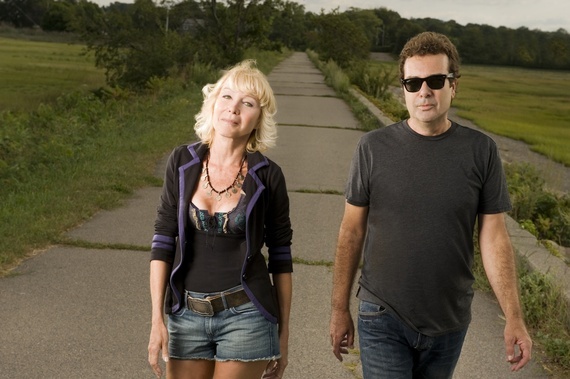 Jimmy Rae: I also see that you've won numerous international festivals as a photographer and screenwriter.   Can you tell us more about these interesting aspects of your life?
Mirana Comstock: The arts are kind of the "family business." My mom is a painter, my brother and grandmother were also painters. As family lore has it, by the time I came along there was no wall space left, so initially I had to follow in the footsteps of my grandfather, Konrad Bercovici.   A noted writer, journalist and musician, he authored, among other things, Gypsy stories and the original screenplay for Chaplin's "The Great Dictator."
I guess it was when I had my own walls that I became involved with photography. Images from my website, 9-11images.com have been published and shown at various museums, including MoMA and the Memorial Museum at WTC. I won the Spider Black and White Competition a few years back, and have also curated and exhibited shows at Lincoln Center and Pfizer. I particularly enjoyed a series I was commissioned to do of dancers…it was great to have my background in music, dance and photography all come together like that!   Photography has a very zen-like quality to me.   I zone in on the pictures within what's going on around me, capture them and spend minimal time manipulating them afterwards.   It keeps me very much in the moment.
It's a special zone for me as a screenwriter, too.   Characters start playing out a scene in my head and it's as if I'm taking dictation…instead of putting words in their mouths, I'm writing down what they say. I've won numerous festivals with rom-com and dramatic feature film scripts and was signed with an LA agent for a while.   And I'd still love to see those films made…they're kind of quirky, but essentially very mainstream. But I guess when it comes down to it, much as I enjoy other ways of expressing myself, ultimately there's a part of me that is not fulfilled being behind the scenes. I just need to put myself out there, using my own words, music, voice, body to express what I think and feel.
Jimmy Rae:   You and Rick have a beach house on the South Shore of Boston I read and all I have to ask is how cool is that?   Awesome views and peaceful feelings I'd imagine.
Mirana Comstock: It's a big old late Victorian on a corner facing the ocean so yes; we love the house and the area.   We're really into old houses.   People lived there, experienced things …there's that word again…there are "stories" within these walls. You just don't get that kind of vibe from newer homes. Of course, you also don't get the rain coming in when there's a nor'easter, but it's a fair exchange for all the positives. As a year-rounder in a beach community, it's especially great at the end of summer when everybody goes away and you have it all to yourselves again. Sort of like they're going back to school and you get to stay at camp. There's a bit of nyah nyah nyah nyah nyah nyah in it all.  
We have an in-home digital studio on the top floor, facing the ocean, so looking out at the beach while writing, recording and mixing definitely has an effect on our sound. "This Storm" was actually recorded during a storm…singing "like the sky goes light to dark so suddenly/no time for you and me to make it home safely" when it's all actually going on right outside…well, you just can't beat that.
Jimmy Rae:   I have to say that I loved the infectious dance beats that engulfed this album, was this something Theory of Tides was going for all along?
Mirana Comstock: Rick and I had gotten back into club dancing…we love it!     So when we started to work on music together again, we just gravitated toward it. Rick had always been into funk and hip-hop more than I had, but dancing definitely changed all that. I wanted to feel music in my hips first, then let it radiate out to the rest of me.   Having a home studio that Rick built fully loaded with digital beats, keyboards, lots of toys, really helped, too. It was quite a revelation the first time we put a hip-hop beat to what otherwise seemed like a whole other genre…and it worked!   After that, we were wide open to sambas, trance, house, electronica…there were no holds barred. It took what were sometimes slow/flow grooves I was working on and upped the energy, brought out a new sound that told us we were really onto something.
Jimmy Rae:   How would you best describe your singing style as it is uniquely mixed to the beats of hip-hop, pop/dance, technoish, trance-like, club-feel and even tribal vibes?   It all seemed to be very hip and modern with even futuristic flows.
Mirana Comstock: So glad you're into the beats…they do define who we are musically.   I'm not sure I can be categorized vocally. I don't change how I sing based on the beats, I just feel them and get inside the lyrics to tell a story and, hopefully, make the listener feel what I feel. I don't consciously think, okay, let's sing this trance style now…or let's get a hip-hop attitude on.   That would be more like TOT does trance or TOT does hip hop…instead of very simply being Theory of Tides does Theory of Tides. Over the years, I've sung everything from country to wave, rock to pop…even Mozart at Music and Art. When I first met Rick, in fact, I was up for the lead in a Broadway revival of Grease.   But I like to think that whatever I'm singing, it always just sounds like me.
Jimmy Rae:   Personally, I thought that the songs "Periphery" and "Dark Side" were your best vocal performances on the record. How do you feel about that and did these songs seem to hit you in special place?
Mirana Comstock: "Dark Side," along with dance track "Elated," has definitely been feeding back as a fan fave on the debut CD. We're pretty happy about that because "Dark Side" is the last song we recorded and added to the CD.   So it represents a lot of where we are right now. It's the only song Rick played keyboard on and was a one-take vocal. I was kinda pissed off, in terms of what DS is all about, I guess, and it translated into something pretty intense.
"Periphery" started out with more of a country feel.   When I initially added the harmonies, Rick said it had a bit of Dixie Chicks happening.   Then it sort of went to another place…that "all I see" section at the end evolved spontaneously while I was playing keyboards. For a song to be successful, to me, there always has to be what I call the "head to the sky" moment…when I can visualize myself on the beach, arms spread wide, head back and singing my heart out to the sky above. That section had that feeling for me.
Jimmy Rae:   From your standpoint, how do you think the album sounded when it was all said and done?   Was there any purpose behind making this record and if so was it accomplished?   What did you personally get out of the entire project?
Mirana Comstock: Because we record in our in-home studio you have the opportunity…sometimes a good thing, sometimes not…to go over every aspect of recording and mixing a gazillion times. So you reach a point when you can't hear it anymore. Now that we've got a little distance from the process, I'd have to say we're very happy with the results. I don't think it's like anybody else out there…and that's a hard thing to accomplish. It also feels to me like a lot of music…sort of a symphonic sweep…or tide, as you will…with a lot going on in it that can be listened to many times.   Or at least I hope it will be!   A purpose? Not in any pre-planned way. We just started working together in the studio, realized we had somehow stumbled into a moment in our musical relationship that was more intense than it had ever been before…and we rode that tide and went with it!  
Jimmy Rae:   When you're in the studio with your husband, I'd love to know exactly what's happening down to the very small details.  
Mirana Comstock: Because our studio is in our house, the way we work really varies. We try to go up there after dinner on weeknights as often as possible and we spend most of the weekend in the studio, too. Sometimes Rick will wail out on guitar in the studio by himself or work on some new drum beats or keyboard sounds. He's definitely more into the technical aspects of it than I am. Other times, I'll be up there working on keyboard parts and if he hears something he likes, he'll come upstairs, pick up his guitar or bass and start playing along.
Then comes what we call "the Billy Joel" moment…setting up a mic next to the keyboards for me to sing a scratch vocal while we're playing. A lot of that comes together pretty naturally. In terms of the beats, the real heart of our music, sometimes one of us has a preconceived notion of where we hear it going…say, if I've been working with a sequence. But we have such an amazing library of digital beats, most times we keep trying things till it all clicks in. And it's often what we least expect…a hip-hop beat under what would otherwise be a ballad, something that adds tension, contrast and, of course, fluidity. And all of a sudden I'm dancing around the studio like an idiot!
In terms of vocals, like I said earlier, I really have to be emotionally into it. The way our songs are written, they just can't be faked. But because we are currently working on so much new material, there is always another song to sing with a different feel or harmonies to add on another track.   When it comes to guitar and bass, Rick actually likes to work on finalizing his parts alone. I'll leave the studio for a while and when I come back, he has lots of takes we listen to together, see what works where, do rough mixes, mute things out, try different combinations. But one of the most important things in the process, I find, is to know when not to work on a track. To let it sit, get some space between you and the material so you can return with fresh ears. Only then can you really tell if you have something that's ready to go…and flow…
Jimmy Rae: Besides music, screenwriting and photography, what else do you enjoy doing in life?
Mirana Comstock: Dancing, of course as I mentioned earlier…whenever we can get away for a few days, we always get out to the clubs and go dancing. We also enjoy walking along the beach and hanging with our two dogs…a rescue greyhound and a cattledog/basenji mix. Rick and I are very close, pretty much each other's best friend these days, so I guess what else I enjoy in life is being in love with Rick.   And his being in love with me. (I know, big old awwwwww there. But it's true!)
Jimmy Rae: One last thing I have to know and that is should we expect a high tide crashing in with the new release of your record?   What's next for Theory of Tides?
Mirana Comstock: We already have 12 songs for the next CD that we're in the process of mixing. And material for several CDs after that. A video is probably the next Big Project… haven't decided which song it will be. But there will be A LOT of dancing in it, I can promise you that. The response to the new CD has been really great from people with a wide range of musical tastes…with a particularly strong response from Europe. So maybe this will take us there…and, of course, a label deal is a primary goal. But right now, we're just riding those crosscurrents and ready to go wherever they take us. It's an exciting time, for sure!
Jimmy Rae: Thank you for your time!
For more on Mirana Comstock and Theory of Tides, SKOPE out www.theoryoftides.com  & www.myspace.com/theoryoftides.
By Jimmy Rae (jrae@skopemag.com)