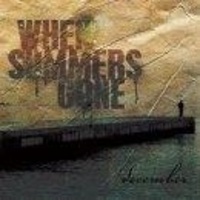 The dynamic duo known as When Summers Gone get extremely personal on this debut release titled December.   When Summers Gone is made up of long-time friends Dave Graziani on lead vocals, guitar and piano & Chris Lepri on bass and drums.   Graziani is also the chief songwriter behind this collection of emotionally-charged songs.   December is based on the last 10 years of Dave's life and also centered around the death of a high school friend.   The title, December, is actually the month that this person tragically committed suicide.   Dave and Chris are able to come to terms with the loss of their friend through this work of highly compelling & spellbinding music.  
This record gets deep & personal with an overload of musical feelings.   The arrangements are put together beautifully and Graziani sings these numbers with such conviction & compassion.   This album is an emotional rollercoaster that is a cold December, but only When Summer's Gone.   In the end, you along with the group will see the light.
The eight-song set starts off with "Funeral for a Friend", which is actually the title of an Elton John classic.   This was a touching acoustic set that stresses on the pain, suffering and confusion of losing their friend.   Next up, "Welcome Home", proves why Dave Graziani is a terrific front-man where his singing voice conveys such powerful moments.   On track three, "Resolution D", you get a heavier sense with a hard rock/metal presence while Dave is moving us with his heart-felt lyrics.   I'm loving the harder-edged feel here with the guitar, drums and bass being put into overdrive.   "Hangover" has a lighter feel with Graziani nailing it vocally with a nice overall sound.   "Ocean Boulevard" is smothered with heavy drums and guitar where you hear them working as a solid tag team.   Next up, "Embers", is just rockin' out with freakin' awesome guitar licks!   Song seven, "10_6", is by far the heaviest of all eight songs with an aggressively loud heavy metal sound.   This track, to me, shows the band members letting out their frustrations toward the suicide of their friend.   The record ends on a solemnly dreary note with "Echoes" where repetitious drum beats end matters with a symbolic meaning.   This effect symbolized to me that echoes are always repeated, but only if we allow them to be repeated.   When Summers Gone definitely invited these "Echoes" to engulf their music and their souls.   Getting in touch with their personal feelings allowed the group to experience deep emotions from song to song repeatedly.   It seemed to me to be an excellent healing process along with maybe being a sense of closure & acceptance.  
When Summers Gone December is a gripping record full of spirit, pain and resolution that will have you captivated.   Graziani will leave you in awe with his phenomenal songwriting ability.   Not to mention, Dave & Chris blend together metal, rock, acoustics and melodies in such a brilliant fashion.   Overall, December is one fine album that will have you wanting more in the end.   For more on When Summers Gone and their latest release, December, SKOPE out www.myspace.com/whensummersgone.  
By Jimmy Rae (jrae@skopemag.com)
[Rating: 4.5/5]