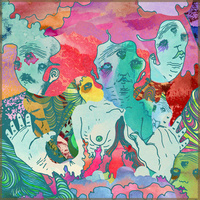 How much does album packaging matter in this in age, when Itunes and The Pirate Bay are happy to pawn digital copies of new releases off and have the tunes delivered to you almost instantaneously? Albums used to be a complete package, a work of art. Despite their decidely modern sound, Portugal. The Man seem to appreciate those old school aesthetics in which an album could not be appreciated unless you could hold it in your hands.
Opening the colourful packaging on The Satanic Satanist will reveal multiple, pull-away layers of mystical looking creatures, all inhabiting a strange, ancient world depicted by watercolours. I only go to great lengths to mention the layers on the elaborate packaging because it mirrors the layers and facets of Portugal. The Man's sound, a thick blend of glam-rock and catchy, Jason Mraz-inspired groovy adult contemporary.
Portugal. The Man sound like some of the horniest cats ever recorded throughout the first spin of The Satanic Satanist; lead singer John Baldwin Gourley litters a high-pitched falsetto throughout the record, seemingly mimicking the band's anthemic and grand approach to electronically-influenced indie pop. When it works, Gourley's pipes border on seducing. But when it fails, as it does more than often, especially on the soul-drenched shuffle of "Lovers In Love," it sounds as if Gourley is faking an orgasm.
But the sexual inneundos and lyrics which tackle weighty issues, including yet another track lamenting George W. Bush's war, (The crunching and pseudo-hippie sing-a-long of "People Say") merely exist below the surface. What is heard immediately on The Satanic Satanist is a potent wash of perfect pop songs. 10 of the 11 tracks hover around the 3-minute mark; the hooks presented aren't nearly punchy enough to alienate fans of Maroon 5. The Satanic Satanist rises early with fertile production and rarely quits. With tracks as immediately accesible as the rousing "Do You," or the patient (Yet equally rousing) "Everyone Is Golden," why would you even bother searching for hidden meanings or layers? Simply put, The Satanic Satanist is a record that makes a case for filler songs being necessary, if only for a chance to take a breath.
It's possible Portugal. The Man were aiming for something different here, as they can't seem to escape that "Experimental rock" tag. But if that's the case, why keep the goods so hidden?
By Joshua Kloke
[Rating: 2.5/5]