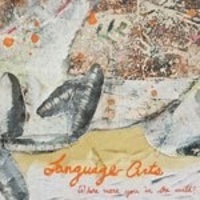 Where Were You In The Wild, the debut LP from Vancouver's Language Arts is a record made for the music geeks. No, not because it presents a certain bookish aesthetic. But because this eleven-track masterpiece contains some of the most original and inventive music available for blogging purposes. Sadly, it's only those who are constantly on the hunt for fresh sounds which will appreciate this (Truly) genre-defying bliss.
Yes, the world of new music is a wild one. It's very often occupied by buzz bands whose shelf life lasts as long enough for bloggers to soak it up and just as quickly comment on it, before a new rose is picked from the wild. While Language Arts might have found themselves victim to this fate, the slant that these two Vancouverites take on acoustic twee-pop is just too blatantly charming to ignore. It hardly matters if "Twee" is a cool or legit term anymore; Where Were You In The Wild breaks conventional indie-pop rules as it hops gracefully from track to track with the poise of a wild rabbit and the curiousity of a newborn baby.
Lead singer Kristen Cudmore takes some serious cues from Kimya Dawson (Of Juno fame) when it comes to her vocal stylings. But her range is exemplified in whimsical fashion on "Lighthouse," in which she howls over classical sounding acoustic guitars. Cudmore's lyrics are never heady, but certainly beg a few listens. After all, often it takes a genius to write so much by saying so little.
"If I could write songs all night like Randy Newman, I would."
The acoustic bent on these tracks is omnipresent, but each track evolves in such a manner that the acoustics become more sweeping than simply acting as a crutch. The plaintive acoustic guitar switches gears so often on "Coughdrop" that it borders on the hypnotic. The thing is, only a fool wouldn't agree to get hypnotized here. Cudmore's brash yet delightful observations on the world around here (And the steadfast manner in which she delivers these observations) employ a serious hip-hop mentality, while the three ubiquitous instruments, namely classical guitars, banjos and violins give Where Were You In the Wild highlight the band's folk roots.
Daring and original, Where Were You In The Wild is a record so timely that it may very well eclipse its peers and outlast the very blogs that gave Language Arts credence.
By Joshua Kloke
[Rating: 4.5/5]