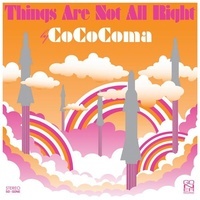 Forget blitzkriegs, CoCoComa's Things Are Not All Right is the real all-out assault. Ten tracks clocking in at somewhere around 25-minutes (It's impossible to count, let alone keep your head above water throughout these often fanatical but impressively succinct tracks) will leave listeners grasping for air. But how could you expect any less from Goner Records,
Memphis' finest purveyors of balls-to-the-wall garage rock?
Things Are Not All Right runs the gamut, acting as an impressive overview for the soon to be legendary label. Cococoma are easily (And at times, all too rightfully) classified as "Garage rock," but they manage to branch out, leaving no sonic residue, hitting perfect punching chords on the 60's surf-rock inspired "Lie To Me" and leaving no stone by the barn unturned on the racuous rockabilly stomp of "Never Be True."
There are very few, if any reprocussions from hearing Things Are Not All Right at full volume. The only drawback might be how quickly all your other "Garage revival" records (I know you're not listening Strokes, but you should be) will find their way into your garbage can. I mean, amidst the flailing guitars and driving percussion on "It's Too Hard," CoCoComa manage to attain harmonies. This is garage rock on an entirely new and bountiful level. Blink and you might miss the drunken genius of Cococoma, but take them in and you'll probably be left blinking in surprise for days anyway.
By Joshua Kloke
[Rating: 4/5]