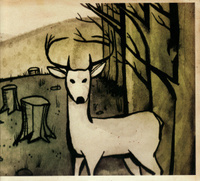 Not having been alive for certain things really gets me down. Paul Henderson's goal in '72, now that would have been something. And I suppose watching Neil Armstrong would have been a bit surreal. But not being able to enjoy psychedelic rock in at the legendary Fillmore in San Francisco seems like a place I really would have enjoyed.
But being born in the early 80's wasn't all that bad either. After all, I was able to say that I enjoyed some of the last of the honest guitar-driven rock and roll bands before rap-rock and scream-o came in and ruined things for everyone. And now, Escape Through The Trees, the second LP and first on Drip Audio from Vancouver's Copilot has me stuck wondering: Did I miss out or am I better off?
You see, Escape Through The Trees fuses subtle yet never subdued psychedelic melodies with some of the most pungent riffage Canada's west coast has ever played host to. There are palpably murky elements to Escape Through The Trees, which rather than bog down the record's sweeping anthems, give them a decidedly candid feel. Copilot could have easily tweaked many of the tunes on Escape Through The Trees and came out sounding like every other generic, radio-ready band. Instead, on cuts such as "Husk," fuelled by a chugging rhythm, Copilot never hits the panic button. Instead, they choose to subtly tempt listeners instead of bowling them over with an obvious and pandering chorus.
The only thing that might bowl listeners over is how far the scorching guitars reach on Escape Through The Trees. "Long Hauling," the album's blistering opener, features a slow groove of chorus, kept afloat by the aforementioned guitars in all their searing glory. Guitarists Chad MacQuarrie and Skye Brooks feed off each other rather remarkably throughout the record, balancing both their psychedelic and modern rock influences with daring precision. The result is a cohesive and beguiling 10 tracks from a band that, regardless of whether or not they were alive in '72, has a bright future ahead of them.
By Joshua Kloke
[Rating: 3/5]