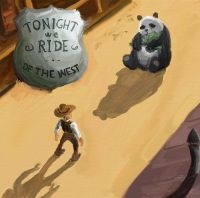 This Montana-based rock trio packs so much intensely fun energy into this record that it's ridiculous!   Tonight We Ride is made up of: Dustin "Dub" Campbell on vocals & guitars, Greg Vivrette on bass & backing vocals and Adam "Bomb" McDonald on drums.   The music on Of The West is so damn random & sporadic that I can't even put it into my own words.   Better yet, I'll give you a quote from Dub himself: "We love music and friends and almost everything actually.   Most of us love big girls.   We love Jameson whiskey.   We enjoy writing songs that make the crowd scream with us and we love 'whoas.'   We love soul music, pop music and hip-hop as well as punk rock and all genres of metal.   I quote Biggie Smalls regularly in my lyrics because I loved the dude!"   Based on this broken train of thought, it mends right in with the entire mind-set of the album.   The funny part is that this notion of surprise and not knowing what's going to come next makes for one damn exciting ride!
TWR claim to center their songs around three subjects: friends, drinking and end-of–the-world references to 2012.   Of course the group thinks that this notion of everything ending on this date is simply ludicrous, but they're planning on having some fun with it in the meantime.   Two songs touch on this idea of the world potentially ending on "Other Side Of The Wall" and "Prelude To Hell On Earth".   The ironic twist is that these two tracks are actually preludes to an upcoming release titled In Hell that will be an entire concept album based on 2012.   "Other Side Of The Wall" has the acoustic guitar workin' it to the tune of outrageously nutty lyrics.   "Prelude To Hell On Earth" on the contrary is actually one solid-as-hell instrumental where all players come together to produce excellent musicianship as one strong team.   Wonder what this Montana team will think of the upcoming movie, 2012; Will we have a grand slam homerun or just maybe a 1…2…3 strikeout?  
What I loved about Tonight We Ride is just their crazy, hype energy.   Every song offered extreme personality especially by way of Campbell's performance/vocals/lyrics who seemed to pour himself into every song.   This group just likes to have fun, party it up and maybe make a few good songs out of it.   The crazy part is that early on you might not want to take this band seriously because of their overly light-hearted approach.   As you listen though to the record, you hear awesome chemistry between all three members along with an electrifying presence/force.   You can't help yourself but listen all the way to this rocked out group with a bit of punk influence.   They may kid around and joke it up on record, but in the end TWR are definitely no joke as a band.
The record actually starts up with the sound of a drink being made, ice and all, on "It's Cocktail Time You Pussy Motherfuckers".   The mentality from the get go is telling you to let loose and to get this party rollin'.   The first ACTUAL song, "Cain Station", puts the three members in a very humorous & fun-spirited light.   This track even gives off some attitude along with their signature "Whoa…ohh…ohh…ohhh…whoa's".   Next up, "Duke of New York A#1", has such a straight up, cool rock sound that turned into one of my favorites on Of The West.   "Drink Myself Into Oblivion" is all about getting lit up full of energized music to feel good to.   Tonight We Ride invite you to share some laughs, some beverages & some good tunes friends.   One number titled "Heaven Can Wait" decides to go with hee-haw rock with some good-humored goofiness at its finest—Yeah Buddy!   The record ends on a high note with "Cash Money" due to its feel of just being a kick-ass rock song by three cool guys.
In the end, I see now that Tonight We Ride just want to have good times while not holding anything back.   They're letting it all out, no exceptions, and are having a blast while doing it.   All they expect is the same in return, so BYOB!!!   For more on Tonight We Ride and their new release recorded in one's living room, Of The West, SKOPE out www.myspace.com/twrmt.
By Jimmy Rae (jrae@skopemag.com)
[Rating: 4/5]