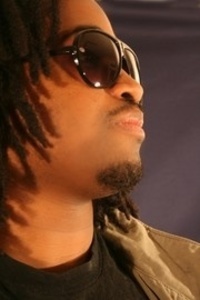 The first thing that struck out at me right away was the title of this album, Live From the Darkside of the Moon.   I was thinking to myself, "Wait a minute; we already have a Darkside of the Moon by music legends Pink Floyd.   Not to mention, this classic record goes down in music history as one of the BEST recordings of all time."   After these thoughts, I have to say that there is a lot to live up to here and hopefully Wadda will give this iconic title justice.  
One thing is for certain right from the start and that is that Rob Wadda is bringin' the heat on this joint.   This rapper/lyricist offers up a fresher than fresh flow & delivery along with some dope rhymes.   Wadda seems to have a way with words as his flurry of lyrics hit the spot just right.   His verbal assault of rap-rhymin' artillery is heard loud and clear on this new album.   It makes sense that Rob holds a deep passion for poetic forms as he became a published poet at the age of only 12!   Amazing feat for this young man as the art of rhyming words together is taken seriously by Mr. Rob Wadda.  
Along the way, Rob has lived in Brooklyn, Houston and Philly.   Life on the streets of some concrete jungles was living reality for Rob.   Wadda took this street life mentality and dares to take you to his Live Darkside of the Moon.   Big city livin' is just one of the subjects touched on this record as Rob also raps about world events, culture and actual life occurrences.   Rob Wadda proves once and for all that he not just another cloned rapper from around the block; he is a gifted artist & a true lyricist.   Wadda is steppin' up the game here by takin' the art of rap 'n' rhyme to the next level.
One element that I was heavily impressed with on this record was simply the beats.   In particular, the tracks "Legacy" and "Frost Cold" turned it up with some hot shit & hot azz beatz man!   No joke, these beats were slammin' 'n' movin' to music that you could bob your head to.   I, myself, couldn't get enough of these wicked sounds that were bumpin' loud into my eardrums.   I equally loved the high energy & adrenaline-rushed rock-rap feel on "Born to Resist" and "Crush Em".   The rock beat was hittin' hard to the rap jams as these two tracks gave off a cool & raw vibe.  
Watch out for this Rappin' Lyricist with nasty beatz as he sets out to take the world by storm.   Get ready to bounce and move to the fly sounds of Rob Wadda.   For more on this artist and his new release, Live from the Darkside of the Moon, SKOPE out www.myspace.com/robwaddadrake.  
By Jimmy Rae
[Rating: 4.5/5]