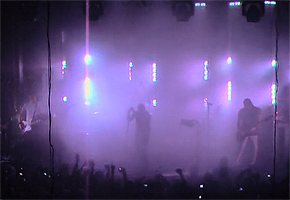 Of all the fans out there, Nine Inch Nails fans may be, if not most, at least one of the most devoted.
This year saw the end of Nine Inch Nails, whom performed their final shows in New York and Los Angeles, respectably named the Wave Goodbye tour, in clubs that in no way could possibly contain all the fans that the band has collected over their long career. The tour saw 3 hour long sets, with a set-list to die for. There was no way that the band could've ended as an opener for Jane's Addiction, with a much shorter time on stage.
Fans who went to the band's performance at Webster Hall got a special treat; The Downward Spiral in it's entirety. You read that right. From "Mr. Self Destruct" all the way to "Hurt", NIN performed every song the way it sounded on the record in 1994. The band looked forward to filming the concert, but unfortunately due to the fact they would have been forced to pay "exorbitant fees requested by the LiveNation venue", it never happened.
This is where Nine Inch Nail's open-camera policy that has been running since 2008 finally showed it's genius. If you're not familiar with it, the policy allowed fans to capture the event in anyway they saw possible on whatever camera they wanted, totally shoving regular security issues with cameras in the face. Fans were able to bring DSLR's and hi-def video cameras, without any questions asked. Since NIN weren't able to produce a DVD, fans took matters into their own hands and made one themselves by organizing online to track down every possible HD footage of the show, put it together, and immortalize the spectacle.
Two months since the show, The NIN Hotline and This One Is On Us have finally released it, available for download in all it's 720p glory. From there, you can download it as a torrent, directly, for your iPod/iPhone, and if you don't have the space, you can watch it as a playlist on YouTube.
The audio is fair, no garble and bass-overload like you ALWAYS hear in fan filmed videos. Every word and note is clear. Visually it captures the chaos and beauty of Nine Inch Nails just as perfectly. This wasn't half-assed, and might as well have be sold in stores as an actual, professional DVD. Try not to get goosebumps watching "Hurt".