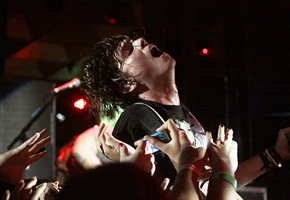 After almost an entire year of silence, The Academy Is… showed they are ready to return in full force.
The Academy Is… have always been able to bring the rock, wherever they went. William Beckett is one of the most animated singers on stage, and has a quirky stage presence that definitely makes watching their set a pleasure to witness. This never changed, even after the band unintentionally ventured into the mainstream with their album Fast Times At Barrington High, and their leading single "About A Girl", which was even performed on MTV for their New Years special.
However, the band never did see another huge nation-wide tour after the Bill & Trav's Bogus Journey tour with We The Kings, that was in support of Fast Times. Instead, it was as if the entire five-piece crawled under a rock except for Beckett who did a series of acoustic tours. Sometime around one of those tours, Beckett's friend and fellow band-mate Adam Siska was involved in a freak accident that not only called for surgery, but also left him unable to accompany the band on their short tour in the UK.
Months later now, The Academy Is… are back on the road with all five of the guys, co-headlining with Mayday Parade on the AP Fall Ball Tour. In conjunction with the tour, a rather disposable EP titled Lost In Pacific Time was released, and the band are already working on album number four.
Things were looking very bleak for the tour on this particular Saturday night in Fort Lauderdale, especially since a few miles down the road at Revolution was the sold out Glamour Kills Tour featuring All Time Low, We The Kings, and etc. Despite much speculation that most of Fort Lauderdale music-goers would be at Revolution, the Fall Bal Tour sold out. With much respect to All Time Low, this Saturday night truly belonged to the return of The Academy Is… back on the road.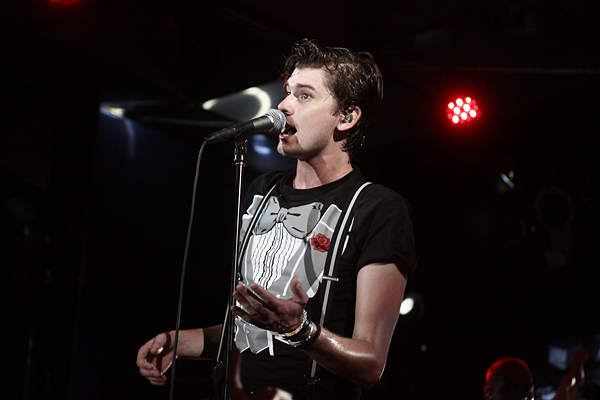 Following the hardcore/pop mayhem that was Set Your Goals, Culture Room was nothing but ear-shattering roars of fans once lights blacked out, signaling The Academy Is… was moments away from walking on stage. One by one, Mike Carden, Michael Chislett, "The Butcher", and Adam Siska walked on stage. Meanwhile, the opening notes to the closer and title track of their album Almost Here was faintly playing in the background. You didn't even need to be physically inside the venue to hear when Beckett finally graced the stage. With the entire band finally together on stage, they quickly jumped into "Almost Here", a song that has previously been rare among the set lists, and usually a closer. As an opener, the song still contained it's breathtaking fervor.
"Checkmarks", which has always been a staple in the band's set list's for its overwhelming intensity, and how much much energy it drains from both fan and band alike. Even in studio, "Checkmarks" the heaviest and most heart-jolting track of Almost Here, and no set would be complete without it. The song came third into the set, and from there on out it was obvious the band was out there to play what they knew fans wanted to hear, and give it to them as early in the set as possible, guaranteeing a memorable set early on.
Highlights of the night was the always pleasing fist-pumper, "We've Got A Big Mess On Our Hands", and "40 Steps". While it is a B-side to their sophomore release, Santi, "40 Steps" remains a fan favorite due to how heart-wrenching and emotionally intense of a song it is. This time around, TAI decided to play a new rendition of it, featuring much bigger sound in contrast to it's original mostly-acoustic arrangement. "If you know this song, you've never heard it like this", said Beckett.
Anyone who thought The Academy Is… would have been tainted by mainstream would be dead wrong. Nothing will stop them from who they are, and putting on the kind of shows they've dedicated to themselves and fans to put on, in their seven years of being together. As they finished, drummer The Butcher flipped over his entire drum set, leaving a lasting image of how chaotic a show the band can put on, despite their pretty-boy looks.
—
SETLIST
Almost Here
Neighbors
Checkmarks
About a Girl
I'm Yours Tonight
Classifieds
We've Got a Big Mess on Our Hands
40 Steps
Summer Hair = Forever Young
Slow Down
—
View more pictures from this show in the gallery.
Look out for our interview with bassist, Adam Siska.