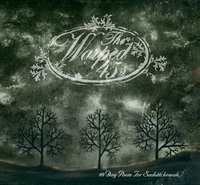 "It still amazes me what some people will throw away" croons Dave McEathron on "Progress." It's an apt sentiment from McEathron, lead singer of the country-rock troubadours The Warped 45's considering how many fans and critics will disregard 10 Day Poem For Saskatchewan as nothing more than simple boot-stomping bar rock. Yet upon deeper dissection, there's rich and at times haunting aspects to 10 Day Poem For Saskatchewan, the debut release from the Warped 45's that calls to mind some of the better work of bands such as Oakley Hall.
"(Bring On that) New Depression" is a glaring example of how The Warped 45's search for meaning in the mundane breeds fantastic and repeatedly satisfying results. Songs of hardship are nothing new to country-rock, but it is the maturity in which this debut record deals with this hardship that stands out. With a rollicking choruses and heartfelt sentiments littering 10 Day Poem For Saskatchewan, The Warped 45's have managed to put themselves on par with their predecessors and essentially, achieve in sounding wise beyond their years.
The acoustic leanings of The Warped 45's often take center stage on 10 Day Poem For Saskatchewan, but when the wealth of accompanying players and sounds, including strings, keys and banjos (Three members of the band receive banjo credits) the record hits its finer notes. "Two Month Old Apologies" is radio ready and features immensely alluring keys and violins. Yes, many won't give 10 Day Poem For Saskatchewan it's due. And upon first listen, it might not be the most compelling record. But like the small towns that gave birth to The Warped 45's, it is in the repeated visits where one can truly discover the beauty beneath the surface. Keep digging on 10 Day Poem For Saskatchewan.
By Joshua Kloke
[Rating: 3.5/5]