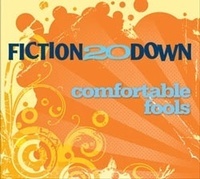 First off, I'd like to mention the exceptionally professional touch put forth on their overall appearance of the cover art and inside sleeves.   This brand new LP has a very pleasing feel about it due to its well-put-together packaging.   Right away, I was drawn to this band and their record just from first sight.   Appealing and eye-soothing visual effects are evident before you even slip the disc in your stereo!   Obviously, there was a lot of love & care that went into the looks, but will the sounds pan out.   I will warn you that I was definitely not disappointed.
Fiction 20 Down better known as F20D by fans are made up of a Baltimore foursome that make up an incredibly cool brand of music.   F20D offer up some rock with some reggae vibes thrown in for fun, which are heavily picked up on the opening track, "Wind Me Down".   Comfortable Fools goes far beyond just straight rock & reggae vibes though in particular with passionate vocals by Jordan Lally.   Lally is the sole songwriter for this LP along with being the lead singer, playing rhythm guitar and not to mention he also recorded, produced and mixed this record in his own recording studio for Reveler Recording, LLC.   Very impressive to say the least for this young man whose impactful vocal performance was definitely a key ingredient toward the success of making this album.   Lally's words were pure and his delivery was equally impressive as you could tell he poured all of his heart into this project.   Now, we can't forget about the rest of the band who are just as awesome with distinct qualities of their own.   You have got some sweet rockin' licks from the lead guitar of Ben Metzger and then in turn get some hard-hittin', solid drumming from Benjamin Potok.   The bass lines actually stood out to me this time around, which rarely happens to be honest.   DJ Fritzges played the hell out of his bass with some incredibly catchy lines that grooved everything together.
Now onto the 12 songs that appeared on this LP.   You get an easy-going rock sensation that's laid back on one end, but jams out on the other.   Overall, Fiction 20 Down give the listeners a heavy dose of a fun-times atmosphere.   Playing their hearts out and having fun while doing is the secret to this group's glory.   There are some very rock-oriented moments on here along with some fine acoustic elements as well.   Track 8, "Rock Bottom Blue", stands out as a powerful yet subtle vocal performance by Lally along with some nice-sounding strings to class things up a bit.   Rhythm-wise, two songs that really make a point in that department are "Oh Why Me? Oh…" and "Honor Echoes" due to the heavy drum beats, slammin' bass lines, rockin' guitar riffs and the singer bringin' the goods swiftly.   I love the fast flow of words being sang here by Jordan Lally; a very efficient tactic musically.   And then to finish matters off, the four members end with some group harmony that is definitely ear-pleasing.  
Fiction 20 Down are the real deal and Comfortable Fools is one freshly cool LP.   Look out for the Baltimore boys coming to a town/city near you.   For more on F20D and their latest release, SKOPE out www.f20d.com.  
By Jimmy Rae
[Rating: 4/5]