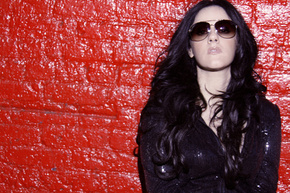 When I woke up this morning I knew that it was going to be a great week for 'Skoped Out.' This week I get to feature my next guest who I feel is one of the most exciting female singer/songwriters today. I fell for the music of Stacie Rose in 2006 when I found her video for "Consider Me" on her Myspace page. I have embedded the video here to get you all caught up. A few weeks ago Stacie's label reached out to me about what she is doing with Pledge Music and her 'The Alter Ego EP' project. I found it to be exciting & revolutionary and I had to bring Stacie on to tell readers all about it. Coming straight out of New Jersey, Stacie Rose is back with a fresh look, new music, and an inspirational story to boot!
Stoli: I have been a big fan since seeing your video, "Consider Me." I have always wanted to know was that song written for a specific person or past lover?
Stacie Rose: Thank you!   It was actually written about a small collection of people that suddenly seemed unworthy at the time. I can be very trusting, and devoted to those I love and felt a real disconnect with certain people that I had been hanging my heart on. The song somehow morphed over time to be about whomever was feeling like dead weight, or bad energy at the time I would perform it. So, in a way this song keeps reinventing itself, since life is life, and people sometimes disappoint. The good news? Someone always surprises me and ends up being a keeper! I'll need to write a sequel.
Stoli: Your voice is undeniable and so appealing. At what age did you realize that you wanted to pursue music as passionately as you do?  
Stacie Rose: Thank you again… what a compliment. I'm liking where you are going with these questions! Hmm… I think I have been singing since birth. I guess I started realizing I was onto something in college, when people would try to get me high so I would sing songs for them. I was kind of a closet performer then; still shy about it, mostly doing private shows in my house for roommates, or during summer parties. People started reacting in away that made me feel good. I liked the warmth and connection of being locked inside a moment– musically with others. Once I was out of school, I started a band and have been working my musical mojo ever since.
Stoli: You have been a major force in the independent music community for many years now. Please run down your past albums and EP's and famous live venues that you have played?
Stacie Rose: This is Mine (2003)
This Is Yours   – Live EP (2004)
Shadow & Splendor (2005)
Shotgun Daisy (2009)
I've been based mostly in and around New York City and done most of my favorite shows at Sin-e, Mercury Lounge, The Bitter End, Knitting Factory, and Arlene Grocery, The Annex, and some Hoboken spots like Maxwell's.
I have played numerous festivals all over and done shows, at The Bluebird Cafe in Nashville, On the Rox, and Hotel Café in Los Angeles. Shows I've done in Lexington, Kentucky and Boston stand out too. I have also really enjoyed the radio performances we have done over the years. XM, WVIA, WNTI, among others. You get a lot of love when you journey to the stations, and the performances are intimate.
Stacie Rose "Consider Me":
[myspace 941215 nolink]
Stoli: Your label is Enchanted Records. How do you balance running your own label and what advantage does that offer you as a musician?
Stacie Rose: Well… BALANCE is a relative term for me and is not always an easy thing. I try to split the work among a very small but amazing team. I surround myself with people I trust creatively, professionally, and personally. My label and music are constantly evolving. In the musical climate today, I think it's been essential to both roll with new media, and new technologies and, be as innovative and spontaneous as possible. It's a mix of strategy, and going with the flow. I recently connected with my new manager Anthony J.W. Benson with injoi Music who has advocated working smarter, instead of harder, which has a lovely ring to me.
Having my own label has afforded me the freedom to do as I choose creatively and work with people I respect and adore. I enjoy what I do, and channel that energy to propel myself. Through trials, and errors, and passion and persistence, I have learned from mistakes and celebrated the ongoing accomplishments with my team. I take most things in stride, use my persuasive nature, and forge forward whenever possible. I need not the validation of a higher power, which is liberating. Although, more funding, and a bigger promotional machine would be nice, I don't have ill feelings for the corporate side of the industry, as I have been fortunate to license a lot of my songs and work within that system. I feel very proud of the fact that I have built my own brand–my own way. It was not until recently that I reached saturation point and started to feel a bit overwhelmed, and am thrilled to have new management, especially as I look toward releasing new material (THE ALTER EGO EP'S) and reclaiming some semblance of that ever-important balance thing.
Stoli: I am really excited to ask you about 'The Alter Ego EP's' and your alliance with Pledge Music. Please explain how you hooked up with them and how revolutionary your funding of this album is?
Stacie Rose: There is a nice serendipitous story about PLEDGE and the ALTER EGO EP's. I hadn't intended to make a new record just yet, but had a pile of songs that just kept growing. People started reaching out to me, asking if I had any songs to work on. Like… "Hey can you come out and play? And, I thought I have the songs, and a lot of creative ideas, and yes I would love to share them.
Robert L, Smith (a great engineer/producer and long time friend and collaborator) and I started brainstorming and sending tracks to different mixers, producers, programmers and uploading pro-tools sessions, and back and fourth we went. The songs were all gravitating toward this dance/club/soul sound, with the help from some amazing collaborators like Thomas Hutchings, HAWK, Quixotic, Captain Danger, among others. I started having so much fun re-singing, and re-imagining them with the different collaborators. So, this is how the first half of the Alter Ego emerged. Shortly after I felt this intense urge to arrange and record these songs on a more traditional rock n' roll platform, which is essentially how I heard most of them in my head when I originally wrote them. I called Jeff Allen (also a good friend, producer, musician arranger, collaborator) and over burgers and drinks, threw out the idea of this alternative side to the songs already in the works, like an alter ego. We listened to the songs, and pooled our ideas. Together we spent a lot of time working through the arrangements, and agreed on everything regarding the sonic spirit of the project. The other ego was born.
Now for PLEDGE…
As I had mentioned, I had not intended to make a record just yet, and Shotgun Daisy has been out less than 2 years. Therefore, I had absolutely NO budget. My good friend Jason Pascal, who used to be my entertainment lawyer (and has since hooked me up with Evan Krauss my current, entertainment lawyer) had been trying to connect me with his friend Benji Rogers, one of the founders of PLEDGE. Benji and I had many quick texts, phone conversations and eventually I became one of the first artists to test the waters at PLEDGE. I love the fact that It's been in BETA phase. It's fun to be in on something new and exciting. The concept is brilliant. You solicit pledges from friends, family and fans, in an effort to make a record with, and for them!   It's like a record for the people, by the people and some of the money goes to a charity of the artists' choice. Since the whole link-up transpired at the precise time I needed to come up with a budget, Pledge has been a real musical blessing. I am incredibly grateful to the people who have pledged so far!
Stoli: I am so impressed by this. Do you see this becoming a major force for bands looking to fund their next project?
Stacie Rose: YES. It's smart and it's fun. And you can set your own budget, template, and incentives. And it's a great way to fill people in on what you as an artist are up to.   It's also quite interactive. For example, if you pledge a certain amount of money to my project I will write a song about you, and for a different amount I will cover the song of your choice and record it, You can sing back-ups on my record, or attend a recording or mixing session etc. I am certain this will become mainstream in the years to come because it is just not feasible to rely on your bank account or a major label to put out a record and then promote it with heart and the right intentions.
Stoli: You are also donating 10% to, The Seeing Eye. What connection to that charity do you have and why is it important to you?
Stacie Rose: I am crazy about animals, and have been fascinated by the way animals and people can nurture close relationships, coexist, and improve quality of life for each other.   I have also always felt a lump in my throat when faced with the visually impaired. I guess it hits me in very visceral way when I imagine life without sight. The idea of Seeing Eye dogs and the way they can improve ones quality of life is like a miracle and these animals are angels, as are the people who train them. The Seeing Eye is an amazing organization and the oldest existing dog guide school in the world. It's located in Morristown NJ, and has partnered with people who are blind who seek to enhance their independence, dignity, and self-confidence through the use of Seeing Eye dogs. About 14,000 of these specially bred and trained dogs have brought a new level of mobility, safety, and self-sufficiency to almost 8,000 men and women. This is very moving to me, and a  most worthy cause!
Stoli: How long have you been working on 'Alter Ego EP's' and why did you choose that intriguing title?
Stacie Rose: I have been messing around with different sounds and experimenting in genre- bending for a while. Through conversations with Robert L. Smith, who is forever connecting me with new co-conspirators, and seems to know how to make a match, my publicist and right hand, Ashley Martorana, with whom I brainstorm and share all my ideas and early demos, my lawyer Evan; who is always lending an ear, encouraging my art, and desire to explore, and delve into new arenas with my writing/performing, and Jeff Allen who helps me to realize my musical premonitions, reminding me that my voice and writing style will be the center, and thing that grounds anything I do, linking it back to me, I began to see an opportunity to run forward and not question my vision or look back. I am on a musical expedition, and nothing is off limits. I am free to flaunt the separate sides of my self and bring them together in one record! How fun! Who wants to be in a box? Certainly not me! The Alter Ego EP's are different parts of Stacie Rose, and will both rock n' groove. Some of the same songs will be featured on both EP's in two completely different ways. Like a dish cooked 2 ways with extra special sauces!
Stoli: How will these EP's be different from your prior releases and why go with an EP format instead of full album?
Stacie Rose: The concept of EP's makes sense because each will have 5-6 songs, as opposed to my previous albums that had 11-12 songs. Less is sometimes more and you can choose the EP to match your mood or musical interest.
Stoli: You are a talented & real songwriter. Where do you find inspiration to write music and how much of your real life is in your songs?
Stacie Rose: Thank you!   I find inspiration in life's challenges, pleasures, and traumas. I draw from other people, from my own experience and dreams. I also use songs as a vehicle by which I work through the chaos in my heart. I get to better places when I write. Sometimes I get into a very cathartic state, sometimes it's hard-times and tears getting to the crux of my ideas, sometimes it's a really joyful process.
Stoli: You have accomplished so much as an independent artist. What accomplishment is most special to you and do you feel like you even need a major label at this point in your career?
Stacie Rose: Under the right circumstances a major label might be nice. Although I have done so much without one, which gives me a great sense of pride. It would be great to have the funding for promotions, tours support etc. I have a great team, and we have been able to generate tons of great press, in-studio radio shows, international promotion, licensing to commercials, television and movies. We are proof you can do A LOT with very little.    
Stoli: Is it hard for you to have a serious relationship when your music career is moving like it is?
Stacie Rose: Well, I have definitely worked at it, and failed at times. My normal disposition can be a little speed demony. I can get really wrapped up, carried away, and caught up the moment, which is not always conducive to a good, healthy relationship. But I am also quite a love bug and try not to let that get too messed up. So yes, I suppose it is hard it times, but I try to put the ones that matter in the front of the line
Stoli: What is something personal about Stacie Rose that may shock Skope readers?
Stacie Rose: I am very shy sometimes (nobody ever believes me)
I can blow really good smoke rings (which I think is fairly impressive for someone that doesn't even smoke cigarettes)
I can find anything (most of the time) I have been called eagle-eye rose.
I have tamed my wild cat Punky with sweetness.
I have been told that my positive vibe suppresses evil spirits… (I realize this sounds odd) but I do believe in other energies in the universe, and pretty sure I have encountered spirits/ghosts.
I can sleep for about 14 hrs straight. REALLY!
I am deathly afraid of needles, yet love acupuncture and long for some right now.
I can shake it like Shakira.
Stoli: What is coming up for Stacie Rose and where can readers get more from you?  
Stacie Rose: The release of THE ALTER-EGO EP's is coming up! I am very excited about where it's all going, and can't wait for the release party and a chance to celebrate with friends, fans and all the fantastical people involved!
I always update my blog: http://hlay.blogspot.com/ you can find the latest and the greatest there.
Here is my website www.stacierose.com. I am facebookable facebook.com/stacierose,   myspaceable http://www.myspace.com/stacierose  and you can catch me twittering www.twitter.com/stacierose from  time to time too.
You can go to Pledge Music to find out more and help me finish the ALTER-EGO Ep's:
www.pledgemusic.com/artists/stacie-rose