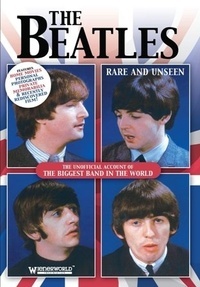 Ready to relive the British invasion? 'The Beatles: Rare and Unseen' takes you on a magical mystery tour from the birth of the biggest band in the world, to their break out performances, the American invasion, and the drift to different directions for the 'Fab Four' – out now on MVDvisual.
If you have ever wondered what it would be like to spend some time on tour with the Beatles, 'Rare and Unseen' is a must own for your documentary collection. You will see rare home movies [some shot by the band] of the Beatles playing around the pool, on their first tour in the British Channel Islands, the only existing footage of the band performing in Scotland, and so much more. Rare and recently found interviews of the band members themselves provide contemporary insight into what they were thinking as it all unfolded around them. "It was Elvis who got me out of Liverpool" — John Lennon-
Packed with recent interviews of Phil Collins, to their former publicist, recording engineer and more… you will feel the winds of change as living legends relive their first time hearing the Beatles and what it meant to them to be there and witness it all. 'Rare and Unseen' is your window back in time, and back behind the scenes of Beatle-mania.
Reviewed by: Gary Jacobs
[Rating: 5/5]