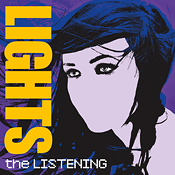 One year and and a hot, sweaty summer of Warped Tour later, Canadian sweetheart Lights has finally released her full-length record, The Listening. Half of the record will already be familiar with fans, featuring previous releases like opening track "Saviour" and "The Last Thing On Your Mind" from her past EPs, and the rest is completely brand new.
If you weren't already familiar with Lights, then you should probably know that she doesn't wield her keytar and new wave sound to invoke neon splattered dance parties. Much of Light's music is spawned from her emotions, resulting in mellow, pop songs, with a healthy amount of synthesizer. Rarely, but not never, does her music call for much higher energy output. "Second Go" is a spirited track tinged with waning sirens about asking to just have a second chance. That and "Ice", which even makes a small but lasting reference to Vanilla Ice, may be the only contenders to find themselves spinning in any of those neon splattered dance parties.
However, Light's true genius really exposes itself when she goes with a much quiet, dream-pop arroach, reminiscent of M83. "February Air" allow Light's soft, peaceful voice to make it's true mark. As the song begins to ascend, so does her voice. "Quiet", features a terrific vocal melody, that is joined by a robotic refrain. Light's is someone who has something to say, and through her music is the best way she can make a connection to people. When there isn't a storm of drums and powerful synth taking over her voice, it's easier to make that connection.
The rest of the new tracks unfortunately are plagued by sounding too much like B-sides, or quickly rushed. "Lions!" and "Face Up" do not bring anything new, and fall ill to sounding too much like the other songs on The Listening. It's a sameness that Light's is usually able to break, but not on these. Regardless, she is a young girl who has a lot of time and opportunities ahead of her, and despite minor setbacks, will always provide catchy, emotionally-driven synth-pop.
REVIEW BY NORREL BLAIR
[Rating: 4/5]