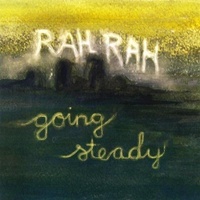 Certain bands remind you of certain things. Neil Young and campfires. U2 and a breach of trust. You get the idea. Rah Rah, an auspiciously named eight-piece indie-pop opera of a band out of Regina, Saskatchewan remind me of something even more vague and non-descript: colours. Not that there's anything wrong with that. Rah Rah, and their debut LP, Going Steady is just brimming with so much life that it's impossible for me to picture a rainbow. (And I'm totally sober as I type this)
There's a bit of chaotic orange confusion within the crashing, up and down "The Innocent One," a song that reeks of catchy, blissful indie rock poetry. With a mess of vocals, both male and female, Going Steady is a lesson as to how to throw a giant party with instruments and turn it into an immensely listenable LP.
"My Guarantee" is a quick, ukulele-rich, folk-leaning gem that reminds me of light blue, if only because this kind of optimism is best served with a pitch perfect sky. And "Winter Sun," one of the few downtrodden numbers of Going Steady calls to mind a musty, maroon bedroom. It's rather plaintive in scope, but as long as Rah Rah are one big party, they ought to know how to play to different crowds.
Hearing masterful pieces of pop opera that are just too insanely catchy from start to finish, it's impossible not to wonder; is this all that a band can do? On Going Steady, Rah Rah answers an affirmative no. While the first half of the record is rich with frantic harmonies, the second half displays Rah Rah's true prowess: harnessing those harmonies and turning them into dense, pop gems. Going Steady utilizes the collective colours of all eight members of the band and present songs that grow with every listen, as the colours of a rainbow always should.
By Joshua Kloke
[Rating: 4/5]