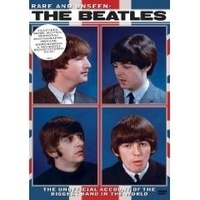 This release is a documentary, featuring rare glimpses of the Fab Four, and dialogue by many of their associates like Tony Barrow (former press officer), Tony Bramwell (former roadie), Sam Leach (former tour manager), and noteworthy fans like Jerry Marsden (Jerry and the Pacemakers), and Phil Collins.   A booklet is included with some early photos, and an early account of their journey by Tony Barrow.
There are some neat home movies made by the boys while on tour and clowning around while having a bit of recreation.   The commentary is good, but most of us old timers already know much of their illustrious conquering of the music industry in the 60's.   There are also snippets of John Lennon interviews, and some footage of filming on Help!, and Magical Mystery Tour.   The only footage of their Scottish tour is also included, as is their first ever-filmed live appearance in Liverpool.  
Of note were comments by former engineer Norman Smith, about recording 13 songs for their first album, in one day before they went back on the road.   Lennon's voice was shot, and they were barely able to get the final song Twist And Shout done.   You can detect the raspiness of his voice on this song, but that always added to the intensity making the cut great.   Also, in the Love Me Do sessions, George Martin couldn't take Pete Best's lackluster drumming anymore, and a replacement was sought, enter Ringo.   Note: There has been a long circulating rumor that Bernard "Pretty" Purdie (the world's most recorded drummer), was called to overdub Pete's drum part, and that he had previously been enlisted to overdub the drum parts on the Beatles/Tony Sheridan sessions with Pete Best.   Who knows for sure, but sure is interesting conjecture!    
My problem with the release is basically due to the technology time lag.   Although the filmed portions are digitally cleaned up, the audience-shot filming (black and white of course), was done without sound.   This was likely due to the unaffordable cost of a good sound enhanced movie camera, and also the almost impossible task of being able to sneak something into a venue the size of a typewriter!  
As is the case with any die-hard fans, any new shred of documentation is a real treasure find.   If you are a Beatles-buff, then you must have this piece of the puzzle too!
By R.M. Engelman
[Rating: 3/5]