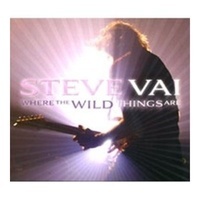 First off, there are hordes of great, eye-popping guitarists roaming the stages across the globe.   Steve Vai is in the upper echelon of these real life guitar heroes.   Steve is a technical guitar savant, in the same vein as Jeff Beck.   Steve always adds a little touch of something live, to make you realize why you paid to see him perform.   This concert was recorded live at the State Theatre in Minneapolis, MN, September 19th 2007, with the two violinists, and one added guitarist ensemble billed as Steve Vai & String Theories.   This formation included Alex DePue and Ann Marie Calhoun on violins (and keys), Bryan Beller on bass, Jeremy Colson on drums, (somebody I couldn't find listed on lap steel), and Dave Weiner on guitar.  
The concert is being released in both CD and DVD format.   The DVD comes with two discs with 27 songs and bonus band material, a Jemini Distortion demo, and a booklet with band photos.   The CD has 15 tracks.  
While mastering the art of guitar swinging, playing the axe with his tongue (eat your heart out Gene Simmons), and whammy bar contortions, Steve leads you through the magical and passionate Whispering A Prayer (my all time Vai favorite), then stomps his way through the rocking Taurus Bulba.   He follows this with the encore rousing Liberty, then Answers, then back to the soulful For The Love Of God.   The band is outstanding, and the behind the scenes footage shows the effort that went into putting this show on the road.
My main complaint is also in part props.   Props for having Whispering A Prayer on the DVD, but Boo for not including it on the CD!   The majority of the SV favorites are on the DVD.   Steve is very audience friendly and appreciative, and definitely worth seeing live!  
By R.M. Engelman
[Rating: 4/5]