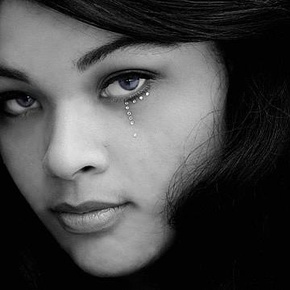 Keeping true to yourself and your feelings is something California native Eye'z takes seriously in both her music and in her life.
"I want people's first impression of me to be the truth," says Eye'z. "I feel like the first impression is your only impression."
 
Growing up, Eye'z hasn't had it easy. As the only child, Eye'z notes that her parents were "bad parents". On her homepage, a spoken-word piece, "Diamond Tearz" is depicted and is both "literal, but also a part of the story" — "once upon a time a baby girl was born…no one listened, heard or opened the door & when she grew just a little bit older, they beat her to the floor. Every day and every night she cried & cried & cried…"
 
School wasn't any easier, as Eye'z was the victim of constant teasing by her peers, which turned violent.
 
"I dropped out in ninth grade," says Eye'z. "I'm actually glad I dropped out. I don't wanna go back to get my GED, it's not for me. Education and all that, and stuff grownups say, it was just the right decision [for me]."
 
Despite these challenges, Eye'z didn't let anyone come in between her passion for music.
 
"I used to compose my own pieces," she says. "Maybe [around age] 3 or 4, I started taking music lessons, but my real piano piece was when I was 14. One day I was like, 'wait a minute, I sing and play the piano all the time.' When I was about 15, going on 16, it just came to me…I just sang how I felt."
 
Age 14 was the "magic year" for Eye'z, as she got her first taste of how the music industry works.
[youtube Mzg7EG55XLI nolink]  
"I was getting my face out there and singing with the Oakland Youth Chorus," she describes. "We sang classical to Hindu and Jewish, to today's pop and standards. That's what I do, that's the kind of music that I love."
One of Eye'z' best gigs was singing for former President Bill Clinton, as well as being on the news. "They had news crews, we were in SF Weekly," says Eye'z.  
 
"We were also getting used," says Eye'z. "People used us 'cause we're young and we're talented and we were cute. They were pimpin' us, so we were getting real deal music industry. It was a tough game."
 
"It's nothing but egos," she adds. "And you've gotta learn about respect. I played the piano to try and make friends, that didn't really work. I continued to just sit at the piano by myself."
 
The teasing Eye'z experienced in school was also felt in the chorus.
 
"When I first started, no one understood how I was so infatuated with music," she says. "I used to sing a cappella and loved it. I was so unpopular that I was popular."
 
Now all grown up, Eye'z continues staying true to her music for the pure love of it. One of her songs, "Dedicated", is an ode to her fans and future fans, and offers a personal message: "I love you, and I'm dedicated to loving you forever. That's who I am…I'm dedicated to loving you forever," she says.
 
Passion, fame and money are Eye'z main driving forces, but so are her pets.
 
"I have a dog and some ducks," she says. "Daffy needs some worms. He's tired of eating duck food each day and I wanna feed him worms and snails. They (my pets) push me more."
 
Eye'z hopes to make a global impact and bring her music to Europe, India and even South America.
 
"I have this song called 'Levitating' and I'd like to shoot it in an actual rainforest in South America," she says.
 
"It does get hard, but at the same time, when you really do turn lemons into lemonade, there will be people that are jealous," Eye'z adds. "The experiences haven't stopped, so keep me on your radar."
For more on Eye'z, visit: www.thelovelyeyez.com
Author: Erika Y. Gradecki