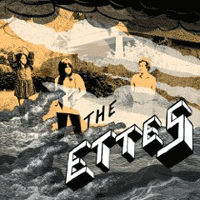 The ETTES are a 3-piece rock outfit from Nashville, Tennessee and they are dropping their third album Do You Want Power? today. They deliver garage rock soaked in a 60's beat-punk sound with heavy, distorted guitars and pounding drums.
Lead singer Lindsay "Coco" Hames has a soulful 60s country voice not unlike Patsy Cline. Bassist Jem lays down the smooth bass lines. Poni on drums is kinetic and hits her drums mercilessly — it makes sense that her inspiration is Animal from the Muppets as she confessed in a recent video interview. The pounding drums, fuzzed out guitars, and loud and in your face style permeate much of the album. There is a mix of harmonica and tambourines, crashing cymbals, piano melodies and then you have Coco's sassy voice floating over the psychedelic cacophony. Nevertheless, there are a few songs which are more on the lines of folk ballads like "Love Lies Bleeding" where Coco's twang comes to the forefront and the band slows it down a bit.
The swaggering "I Can't Be True" is an energetic piece where Coco croons honest and defiant lyrics. She switches gears to the down-tempo and sweetly sung "Keep Me In Flowers" with delicate piano and violin melodies. Then she swings into the raucous and rough "No Home" with punchy keys and driving drums. "Red In tooth and Claw" is definitely the stand out track with its ferocious guitar, crashing drums and relentless bass line. The album is a brief 34 minutes long with 13 songs but this small package packs a giant punch.
[Rating:4/5]
Listen to "I Can't Be True"
[audio:http://skopemag.com/audio/I_Can't_Be_True.mp3]