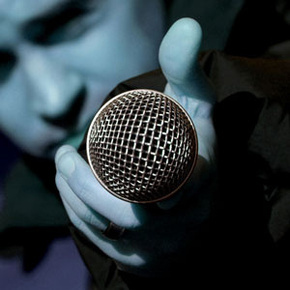 My next guests are four cool musicians from Baltimore, MD. I became familiar with them when their new album, 'Comfortable Fools' ended up in my mailbox and onto my car stereo. I am a huge fan of reggae and these guys merge reggae and rock like I have never heard before. The guys have been real busy with the new album and they are now on an east coast tour to wet appetites of fans old & new. Fiction 20 Down has only been around since 2007 but they have done more in two years than most. I personally invite all readers to get comfortable with Fiction 20 Down!  
Stoli: What is the meaning behind the bands name, Fiction 20 Down?
Jordan – Fiction 20 Down is actually a song title off of our first album.   I wrote the lyrics long before I was into making music and it's all about wanting to conquer your fears so you can look back on your life in 20 years with no regrets.   Fear can definitely lead to a lot of missed opportunities and I was writing about some hypothetical "missed opportunities" in my future and how I wanted them to be fiction 20 years down the line.   For me the biggest dream I had was also one of my biggest fears… to be in a band, to get up and sing and perform in front of people and so on.   Thanks to this band I've been fortunate enough to conquer that fear!
FICTION 20 DOWN
Jordan Lally- Vocals, Guitar
Ben Potok- Drums
DJ Fritzges- Bass
Ben Metzger (Metz)- Lead Guitar
Stoli: How did you all come together to form the band in 2007 and where you friends before that?
Ben- Jordan wrote the first Fiction 20 Down songs with our former guitarist and still good friend, Todd Hipsley. They put together the first album "Down n' Out + Up n' Rising" as more of an acoustic duo. Then they put the word out that they were looking to form a full band and that's where the 3 of us came i n. I joined first, then after that DJ and Metz filled out the line up.
Stoli: You are from Baltimore, MD. What is the live music scene like there and what are some of your favorite venues?
DJ- The live music scene in Baltimore is hoppin'! There are tons of great bands from all different genres doing their thing and there's really a big reggae-rock movement coming out of the area that we're stoked to be a part of!
Ben- Yea, although we mix up our sound a good bit – from the reggae-rock to the straight rock n' roll down to the acoustic singer-songwriter material like "Rock Bottom Blue" off the new album – we generally get thrown in the reggae-rock category, which works well for us because as DJ said Baltimore's reggae-rock scene is big.
Jordan- A few of our favorite local venues actually happen to be just outside of Baltimore- the Recher Theatre in Towson, MD, Armadillo's in Annapolis, MD and a small venue in our hometown of Bel Air called The Tower- those guys have supported us from day one!
Stoli: 'Comfortable Fools' is your third album in two years. What sets this album apart from the first two?
Ben- This is the album where it has all come together for us, sort of the sum of our experience thus far. Jordan and Todd wrote the first album as more or less an acoustic duo and before ever even playing a live show… the second record was our first as a full band… but this time around we've been touring and playing together for 2 years and playing the album material live. Each song has been given time to develop and we've had the chance to work with each other musically and come into our own as a band. This new record has a higher leve l of maturity and personality as a result.
Stoli: Please explain the music making process for the band. Do you write the lyrics and then set the instrumentals or vice versa?
Jordan- More or less the lyrics and guitar come together simultaneously, but usually a lyrical idea will come first and be the spark.   I'll just be hanging out and an idea will pop into my head and I'll grab my iPhone and either type a lyric down or record a vocal idea for a melody.   Then when I have time I'll sit down with my acoustic and work out the lyric and guitar into a rough song.   I'll bring the idea to the studio, play it for the fellas and we'll work with it from there- adding in drums, bass and lead guitar lines as we go.   Sometimes the structure will stay as is, sometime there will be slight adjustments and some times we'll create something altogether new!   As we speak, I probably have a few hundred "ideas" in my phone:)
Stoli: Your sound merges various genres which I love. Who are some musicians that you feel influenced your sound the most?
Jordan- Thank you very much! We get compared often to bands like Dispatch and State Radio, but I think our biggest influences would probably be different for each of us, which would explain the various genres present in our sound.
Ben- Agreed. I am a big fan of Carter Beauford of the Dave Matthews Band. His style has had a huge influence on my playing, so that's definitely big in our sound.
DJ- For me it's Slighly Stoopid, I love Kyle McDonald's bass work!
Metz- I have a lot of influences, it's tough to pinpoint just one, but the sound that I bring to the table for F20D is probably the classic rock guitar which I learned from greats like Led Zeppelin.
Jordan- For me vocally it's Bradley Nowell of Sublime and Damien Rice.   I love the passion and subtlety in their vocal deliveries.   I also listen to a good bit of hip-hop, so I'm sure that influence is present in some of the vocals as well.   As far as guitar, I couldn't really say- maybe Sublime- but I never really learned any other songs on guitar before I starting writing stuff for F20D, so it's probably just a myriad of things that have crept in my consciousness over the years.
Stoli: You guys take advantage of the Internet with Youtube, Twitter, etc. What is the most effective means to attract new fans that you have noticed?
Jordan- That's a tough one, for a while I would have said myspace, but lately Facebook has become big for us.   Really we've just learned to put our name out there in as many ways as possible!   We've just filmed a live dvd, so once that's ready YouTube should become a big asset for us.
Stoli: Is Fiction 20 Down your full time job and how have your families been towards your musical ambitions?
Ben – Fiction 20 Down is our full time job. Jordan still run's his Reveler Recording Studio, producing albums for other artists and bands and I still enjoy teaching music, but all of that serves to support our ambitions with the band.
Jordan- Our families have been completely supportive from day one- we really could not ask for anything more!   They come out to every show possible, they tell family, friends and even strangers about the band.   I think my dad has told every waiter and waitress in mid-atlantic about Fiction 20 Down:)   Same goes for the rest of my family and I'm sure it's the same for the other guys.   DJ's dad even created a dance for a song off of the new album called "Oh Why Me? Oh"!
DJ – – Haha, yea, it's just like the YMCA dance for the Village People song, except you form the letters O, Y, M and O… and now he's got everyone at our live shows doing it!
Metz- Without a doubt our families are our biggest fans!
Stoli: What is the most exciting aspect of the new album 'Comfortable Fools' and is the title a play on words?
Metz- Right now the most exciting thing about new album is probably how well its been received right off the bat from both critics and our fans and friends.   Musically, though I think we are all excited by the variety we brought on the album- the rock, the reggae, the hip-hop feel, the acoustic vibe… it's all there, but with our own spin, our own style.
DJ- We're definitely excited that we were able to achieve an album thats fun, but also has depth musically and lyrically.   On alot of albums it seems that you get one or the other… so we're proud of that!
Jordan – Agreed and yes, 'Comfortab le Fools' is a bit of a play on words.   It's also the title of one of the songs on the album- the lyrics themselves cue the listener into the play on words a bit more.
Stoli: What track on the new album is most personal and why?  
Jordan- For the band as a whole, our first single "Top n' Tails" is probably the most personal.   It talks about chasing a goal or dream and remaining hopeful even when everything isn't exactly how you'd like it to be.   We've had weeks we're playing shows and every venue is packed, we're doing interviews and so on and everything is golden, but then we also have had weeks where the shows are so-so, the press is non-existent, etc. and that's when it's easy to lose that hope… but that's also when we seem to come closer as a band and put in that extra work which always seems to bring that next big opportunity around the corner!
Fiction 20 Down "Top n' Tails":
Stoli: You guys will be playing the east coast over the next few months. How do you keep your live show fresh each night and how do you choose what songs to play?
Ben- We put together a set list at the rehearsal the day or two before the show, but usually change things up on the spot depending on the crowd.   More often than not the people want to dance and party, so we play our singles and our rock, reggae, and hip-hop influenced material that has a nice groove. Now and again we get a "listening audience" and this allows us the opportunity to play some of the more intricate, subdued acoustic-based material and our heavier rock stuff.
DJ- And of course, if someone in the crowd is calling for a song that isn't on our set list, we're definitely going to play it for them!
Metz- And things really don't become stale for us either… even the songs we've been playing together for a while we tend to change up from time to time.   At the rehearsal before a show we'll change the structure of a song or Ben will have an idea for a new harmony or something like that.   And sometimes things change on the fly, for example the last show we played Jordan had the flu and he had a coughing fit during a song and needed to grab some water before singing the chorus and turned to me and was like "yo take a solo"…
Jordan- Haha!   Yea good job covering for me by the way, thank you Metz!
Stoli: You guys have accomplished so much in such little time. Where would you like to see the band in 5 years from now?
Metz- Without a doubt, we want to be touring internationally!
Jordan- Yes sir!   We want our music to hit as many ears as possible and hopefully have a positive influence out there.  
DJ- I second that!
Ben- We're touring the East Coast now, hopefully the West Coast next summer and then we'd love to start to tour outside the US. We just want to keep making music, earning new fans, and meeting new friends.
 
Stoli: In the digital age we are living in are you expecting fans to download or buy the new album at retail?
Jordan- More and more it seems that most people download the albums online.   When it comes to the actual "hard-copy" of the album, we sell most of those at our live shows.   I'm guessing that trend will continue with the new album.
Stoli: What is coming up for Fiction 20 Down and where can readers get more from you?
Ben- Well we have the Fall tour with some TV and radio appearances which we're excited about! Beyond that we will continue supporting the new album with shows and appearances everywhere and=2 0anywhere. We're playing regionally in the Spring of 2010 and as I said, we are looking to tour the West Coast in the Summer of 2010.
Metz- Yep, as our road manager Brad always says, we'll be "popcorn poppin" !
Jordan- Also, I'm not sure exactly when, but we're also going to release a live album which will also include live material from our tour shows, as well as some from acoustic shows we play from time to time. We're stoked about that album coming out to let people know what a live F20D show is all about!
DJ- Readers can find out more about the band at www.f20d.com.   That site will also direct your readers to our pages on MySpace, Facebook, Twitter and YouTube.
Jordan- Oh and we also have some free song downloads availab le for your readers as well.   They can go to www.f20d.com/promo and just enter the promo code: "Skope09" and download a few Fiction 20 Down mp3's for free.  
F20D- Thanks so much for the interview Stoli, we REALLY appreciate the support!!
FREE F20D MP3s:
Go To: www.f20d.com/promo
Enter Promo Code: scope09