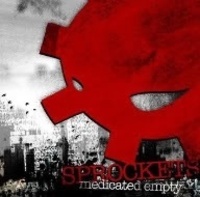 I have to be honest that when I saw the band title, Sprockets, I first thought of that hilarious bit Mike Myers used to do on SNL.   But just as SNL isn't as funny today, Sprockets is also proving to be no laughing matter with their new record, Medicated Empty.   All jokes aside, Sprockets is definitely setting the bar high with their new album.
Originally from Boise, Idaho and relocating to "Sin City" Las Vegas, Sprockets is made up of three members: Brodie Knight Vans as lead singer & guitarist, "Brave Dave" Schwaller on vocals, piano & bass and Dustin "Hollywood" Johnson on drums & electronics.   The sound is so powerful & convincing that it is hard to believe that it is all coming from three men.   Sky's the limit for this Vegas trio and if I was a betting man, I'd cash out now with a high-quality album in your hands.
Brodie and Dave have been best pals since junior high and then years later, they met up with "Hollywood".   You can hear the connection these members have when they play together on Medicated Empty; it's unmistakable.   These three amigos probably have shared some great memories with a lot of laughs, but it hasn't always been happy smiles for Knight Vans especially.   With the passing of his father in 2006 and battling his own health issues that same year, you would think Brodie Knight Vans might have folded under the pressures & hardships of life.   Not the case at all as Brodie and his buddies came through with a solid record, Sympathetic Addictions, in 2006 and a follow-up EP titled Screaming Over Car Alarms in 2007.   And now you have Medicated Empty where they are getting some major national attention such as the track "Uniformed Mascara" being featured on the season finale of NBC's "Life" along with radio & internet play across the nation.   Sounds to me that Brodie and his team deserve all this recognition they are currently receiving.   They have climbed some mountains, but now seem to be able to see the light.   Onto BIGGER and BETTER things Sprockets!
It's worth noting that this CD was produced & engineered by Mike Herrera of the Washington-based punk/pop band, MxPx.   This vocalist/bassist took the reigns as being a mentor to the band to help them better-enhance their sound in the studio.   The results speak for themselves as the overall production is crisp, clear and connects to the listener in a big way.   The album was also mastered by Grammy Award Winner, Richard Dodd.
Brodie likes to call his music "therapy" and what better way to express oneself than through great-sounding music.   The audio on this record has elements of punk, metal, pop, rock and alternative.   Sprockets' Medicated Empty is a rock-em-sock-em' band pack full of powerful conviction, emotion and feeling.   There is a heavy rock feel at times with a harder, edgy attitude present layered with darker, more saddened moments at different verses.   Feelings of hurt and melancholy are sang by Brodie in such gut-wrenching fashion.   The album moves along in such an orderly manner, which really impressed my ears.   You hear Brodie scream, at moments, with such authority while the entire group also played together like champs.   Bottom line, Sprockets rocked it out with their raw energy while attempting to grab a hold of listeners everywhere.
For more on Sprockets and their new release, Medicated Empty, SKOPE out www.myspace.com/sprocket.  
By Jimmy Rae
[Rating: 4.5/5]