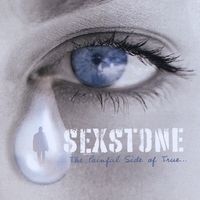 This Kentucky-based rock group is literally bringing The Painful Side of truth on this new record.   You get a dose of the true rock & roll sound mixed with the harsh reality of life.   You get a sense of pain & hurt, but done in such a lively fashion.   Sexstone is made up of Steve Bauer on lead vocals/guitar, Steve Wheeler on guitar, Trent Riley on bass and drummer, Brian Thomas.  
It seems to me that Bauer is a perfect match for this band with his finely-tuned rock chops.     Bauer appears to have the powerfully true voice of a real rock & roller.   The rest of the band plays with such high intensity and you can really feel the chemistry.   The album doesn't just rock, but offers real life experiences and circumstances that can be good or bad.   Every day life has its ups and downs and Sexstone does a wonderful job of touching on both sides.   You can't always have peachy & perfect prettiness without a little ugliness & cold, hard facts.   The four members are dishing it out from both angles not leaving any room for partiality.
This KY foursome blends styles of hard rock, alternative and acoustic in such a distinct manner.   You're getting rock-your-socks-off moments gelled with some fine acoustic playing and then for fun deep feelings are touched upon vocally.   An interesting array of music here, but all for a real purpose so it seems.   No lies…No BS…No Filler…No Crap…just music that people can relate to on one level or another.   I just wish our government could apply the same tactics to help better enhance our faltering society.   But in the words of Aerosmith, I might as well say "Dream On".  
The record starts up with a fast & rockin' tone with a sarcastic & cynical play on the word "Thank You".   Next up is a track titled "Where", which offers soothing sensations brought on by acoustic guitar strings.   I would call this song a slowed-down rock jam that has GOT feeling man.   "Falling Away", #3, goes into a little bit more deeper sense of emotions while "The Brighter Side of Blue" follows with an emotionally-drenched & heavy-set vibe.   The middle of the album brings you one of my favorite cuts, "The First Time" due to its cool, rockin' & rollin fever.   The entire band really pushes and drives this song full speed ahead with the drummer bringin' it home!   "My Night", track six, has some depressing vocals but meshed together with vibrant depth.   While you can feel Bauer's excruciating pains, you can also have fun and jam out.   We go dark again with "Screaming Daylight" where you get some dismal words from Bauer mixed to a hard-hittin' set.   There are even sounds of rain, thunder and wind for added affect and feeling.   Sexstone ends it all on an uplifting note with "Lift" where I hear the drums and singer connecting together like peanut butter and jelly.   Overall, there is an all-around-band-effect evident here that cannot be denied or ignored.
For more on Sexstone and their debut album, The Painful Side of True, SKOPE out www.sexstoneband.com.  
By Jimmy Rae
[Rating: 3/5]