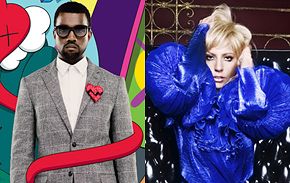 One just wants to wow the world with bizarre performances and outfits. The other was called a "jackass" by the president.
As earlier announced, tour dates for the Fame Kills Tour, starring Kanye West and Lady Gaga have officially been released, kicking off in Pheonix, AZ on November 10th, and ending in Dallas, TX on January 24th, next year.
Both artists at the moment couldn't be more in the public eye than ever, after the VMAs. Lady Gaga delivered a head-turning performance of her new single "Paparazzi", that ended in a bloody mess. Kanye West on the other hand, created a controversy by interrupting Taylor Swift's acceptance speech. Over the next few days, he would deliver multiple apologies and become very unpopular with many celebrities, and even be called a "jackass" by President Obama himself. You'd think after many other times where he's committed similar actions, he would know how to act by now.
Controversies aside, the two performers are ready to embark on a nationwide tour across major arenas, that is slated to have no opening acts, and have both artists performing on stage together. There's not much etails concerning the duo performance, wether songs will be duets, remixes, or if they will switch out every song. We will just have to wait until this tour of epic proportions begins, in November.
Tour dates:
» 11/10 – Phoenix, AZ @ US Airways Center
» 11/11 – San Diego, CA @ Viejas Arena
» 11/13 – Las Vegas, NV @ Mandalay Bay Events Center
» 11/15 – Anaheim, CA @ Honda Center
» 11/16 – Los Angeles, CA @ Staples Center
» 11/18 – Sacramento, CA @ ARCO Arena
» 11/19 – San Jose, CA @ HP Pavilion
» 11/24 – Vancouver, BC @ General Motors Place
» 11/26 – Calgary, AB @ Pengrowth Saddledome
» 11/28 – Edmonton, AB @ Rexall Place
» 11/29 – Saskatoon, SK @ Credit Union Centre
» 12/2 – Denver, CO @ Pepsi Center
» 12/4 – St. Louis, MO @ Scottrade Center
» 12/ 9 – Miami, FL @ American Airlines Arena
» 12/11 – Atlanta, GA @ Philips Arena
» 12/12 – Greensboro, NC @ Greensboro Coliseum Complex
» 12/13 – Norfolk, VA @ Scope
» 12/16 – Worcester, MA @ DCU Center
» 12/18 – Philadelphia, PA @ Wachovia Center
» 12/19 – Baltimore, MD @ 1st Mariner Arena
» 12/20 – Buffalo, NY @ HSBC Arena
» 12/22 – East Rutherford, NJ @ IZOD Center
» 12/26 – Hartford, CT @ XL Center
» 12/30 – Washington, DC @ Verizon Center
» 1/3 – Uniondale, NY @ Nassau Coliseum
» 1/6 – Toronto, ON @ Air Canada Centre
» 1/8 – Kanata, ON@ Scotiabank Place
» 1/11 – Montreal, QC @ Bell Centre
» 1/14 – Auburn Hills, MI @ Palace of Auburn Hills
» 1/16 – Chicago, IL @ United Center
» 1/19 – New Orleans, LA @ New Orleans Arena
» 1/21 – San Antonio, TX @ AT&T Center
» 1/22 – Houston, TX @ Toyota Center
» 1/24 – Dallas, TX @ American Airlines Center