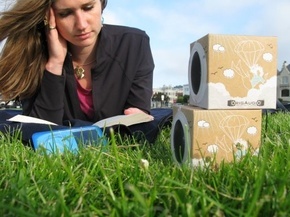 OrigAudio today unveils its new limited edition Fold n' Play speakers–the first-of-its-kind recycled, self-powered, portable speakers that start flat and fold together like origami.
Watch art take shape as OrigAudio speakers fuse modern art, graphic design, music, and Asia's ancient artform, origami to create these innovative portable 3″ cubes. Available in five unique designs including CityScape, Flowers, SurfBreak, DayDream, and Lake, plus one that allows you to create your own artwork, OrigAudio's compact speakers will have you rockin' just about anywhere; whether in the dorm, at the beach, in the park or camping on a road trip.
OrigAudio's Fold n' Play speakers can also be used with any audio device that has a headphone jack,–the slim, portable design allows them to slide easily into any laptop sleeve and won't take up added space in luggage. Made from recycled materials and requiring zero external power makes OrigAudio speakers Mother Nature approved.