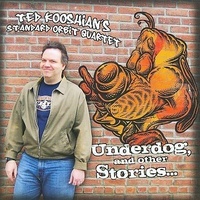 While Ted Kooshian named his album Underdog, and other Stories… Kooshian is certainly not an underdog, nor is his Standard Orbit Quartet. He gives life to old television themes and superhero anthems, such as the highly energized re-imagination of "Underdog," an upbeat number featuring a sick tenor sax feature by Jeff Lederer that starts off low and mysterious, much like the Pink Panther theme, then morphs into something more powerful. Lederer's perfectly executed solo soars above Kooshian's own piano, which is incredibly interesting by itself; his feature prior to the sax solo begins with just the bass line, then builds up to chords, and finally is joined by Lederer. After a few bars of that, the mood shifts briefly to a more Latin-infused beat, with Kooshian playing a conga-inspired pattern. The mood shifts several more times before the end of the song, transforming a simple cartoon theme song into something layered with more depth, which becomes infinitely more interesting.
The best part about this collection is the fact that Kooshian and his quartet obviously like to have fun, particularly evidenced with their rendition of "Popeye." This song begins with bird noises and the sounds of the sea, followed by a boat horn, and then a smooth transition into the music with Kooshian playing the beginning of the theme in a complex meter. While the burden of the melody is once again given to the saxophone, don't be fooled; Kooshian and his piano have total control over this song. In the middle after a false ending, the piano breaks the silence with a minor interlude that is a little haunting but beautiful nonetheless. He also ends the piece, with a dissonant variation of the melody that sums up the whole song, which then fades back to the bird noises from the beginning.
Underdog, and other Stories… is packed with energy. The quality of musicianship is outstanding and the arrangements are fresh, inventive, and genius. And they certainly do more than cartoons; the album also features the themes to Sanford and Son and The Odd Couple. They're updated and reinvented in an adult way, giving these shows back to the people who watched as children in a new incarnation.
Review By: Valerie Williams
[Rating: 4.5/5]