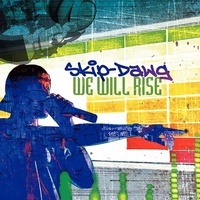 There are not many hip hop albums out there that have impressed me from start to finish as much as the fourth release by Dann Furia, popularly known as Skip-Dawg, entitled, "We Will Rise."  
 
A Philly-based artist, Skip-Dawg's album is a positive, and rather inspirational, piece of work. "Make A Miracle Happen" talks about Skip's near-retirement, after several surgeries on his lungs, which had previously collapsed. It also depicts his 18-month recovery and encouragement from his friend Sassee, who happens to appear on the track.
 
"That High" is a detailed lyrical description of the physical struggles that Skip encountered: "You can't talk, 'cause then you breathe more, the more that you breathe, the more you bleed more. The more that you bleed, the more you need more — units transfused that keep feeding more." Don't forget about the emotional struggles — "You know you look bad, when every single time, someone walks in your room they start to cry. I'm not proud, but I ain't gonna lie, sometimes my circumstance made me wish to die."
 
The album, produced mainly by Beatgodz and a track by G-Man of Hypasounds, has a little bit of everything, including a very catchy club hit, "Skip To The Floor," featuring Sincere and Fareed, that is perfect for B-Boys to break to, or for the ladies to bounce to— "I like it when the girls dance so close, I can tell when shorty got an inie or an outie."
 
The stand-out for this release is definitely the album's title, "We Will Rise," featuring Homemadesoul, which is a tribute to Skip's former Princeton University swimming teammate, Brendan Hansen. The music video, which is featured on YouTube.com, is tasteful and inspiring, splashed with scenes from the 2008 Olympics of Hansen swimming to victory and achieving gold medal status. The track's hook is infectious — "We will fall, but we will rise, and we will fight for the rest of our lives."
 
For anyone that has ever struggled, whether it be physical, emotional or spiritual (EVERYONE should have their hands raised up for this one), "We Will Rise" is a lyrical light of hope to persevere.    
For more on Skip-Dawg, visit www.skip-dawg.com.
 
Author: Erika Y. Gradecki
[Rating: 5/5]