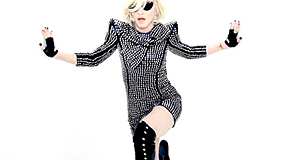 For Madonna's video for her new single "Celebration" that will appear on her upcoming greatest hits compilation, iTunes is allowing Madonna fans all around (in the US) to download the video–for free!
"Celebration" was released early Tuesday morning on iTunes as a free download, which will end tomorrow, September 3, and will be equipped with the basic $1.99 price tag from then on.
The video is not one of Madonna's more grand attempts. Gyrating, crotch-grabbing, and the usual shtick against plain backdrops, and by the end of the three and a half video, has Madonna and her dancers going toe-to-toe with each other. It's not anything you weren't expecting from the disco queen, and even can compare to her "Give It 2 Me" video. However, "Celebration" does feature a caemo from her oldest daughter, Lourdes, 12, joining the dance party.
"Revolver" is the second of two new songs that will appear on her compilation album, titled Celebration. The greatest hits collection will release on September 29, and pre-orders have already begun in conjunction with the release of the video, and it's available in three editions: standard 17-track release with "Celebration"; deluxe edition with two-discs, remixes, and "Revolver"; and a premium edition, featuring 38 tracks, including a bonus song titled, "It's So Cool", and 30 music videos to accompany the songs.