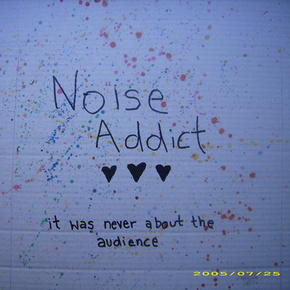 Ben Lee has reformed Noise Addict with Lou Barlow of Dinosaur Jr./Sebadoh and Lara Meyerratken of El May.  
Their new 15-song album, It Was Never About The Audience, was released today for free download via http//noiseaddict.net.     It is the first music bearing the Noise Addict name in 13 years since the release of the debut full length album, Meet The Real You, released via Grand Royal in 1996.
Full Album Available:
SKOPE IT HERE!
 
To date, Ben Lee has released seven solo albums, most recently this year's The Rebirth of Venus, released via Dew Process in Australia and New Zealand and New West Records in the rest of the world.
It Was Never About The Audience Tracklisting:
1. That's How It Goes
2. Do I Know You
3. Get Well
4. Chris Martin's Frown
5. Big Ups
6. Drop That Ghost
7. Hey Baby
8. Lasagne
9. Faster Side of Normal
10. Let Your Heart Decide It
11. Cloudchasing
12. Not Afraid
13. Gravity
14. I Heart Your Band
15. Let's Do Our Thing