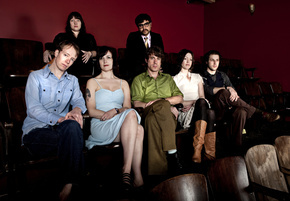 2009 has been a banner year for Portland's Loch Lomond, punctuated with triumph, tumult, and above all, artistic growth.
Night Bats, the band's first physical release since the much-loved Paper The Walls full-length and the follow up to their digital-only Trumpets for Paper Children EP, captures Loch Lomond at a unique and singularly brilliant time in their evolution as an undeniably powerful creative unit.
"NIGHT BATS" TEASER MP3:
Title track "Night Bats" is as expansive as it is arresting, and is, along with "Ghost of an Earthworm", one of the most shining examples of Young's exemplary ability to tell bizarre, often allegorical stories with stunning dry wit and biting precision. "Wax and Wire" is, simply, quite possibly the richest and most jaw-dropping track Loch Lomond has put to tape.