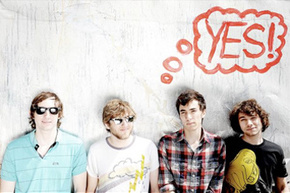 Every year young, hopeful recent high school grads enroll in music school with the hopes and dreams of becoming professional musicians, but how many can boast remixes for the likes of Passion Pit, Asher Roth, and multiple XL Recordings artists before even getting their diploma?
And how many get to celebrate going on tour with the likes of Little Boots (dates below) at their graduation party? Yes Giantess, that's who! (note: Chase took 10 classes this summer semester to graduate Berklee College of Music before the tour).
 
Birthed and the nexus of 2008 and 2009, Yes Giantess was never meant to last more than a few weeks. Members of the band previously played in former incarnations of Passion Pit, the Death Set and so many more, and what was intended to be one off party music for them to play with friends suddenly found an online audience.
To get a taste of the pop bliss to come, check out below their single "You Were Young" (produced by Passion Pit's Al Adhamy) out on 7″ on Neon Gold, as well as their remix of Passion Pit's "Sleepyhead".
 
Download HERE "You Were Young":
Download HERE "Sleepyhead (BoFlex Remix)":