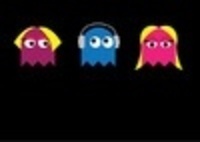 Roy Cohen is the man responsible for the birth of Jive64 coming straight out of Tel Aviv, Israel.   Not your typical Israeli music by any means as Cohen mixes together 80s pop & dance music with the invigorating sounds of old-school video games.   Cohen's love for the big hair decade comes shining through on this new record.   This DJ/Composer/Producer is bringing some crazy-fresh sounds to the table and Jive64 offers you an electronic explosion of 80s extravaganza!  
Right away, I fell in love with the cover art because of its Pac-Man theme.   The famous ghost characters from the classic video game, Pac-Man, are depicted on the front and back.   The art work screams 80s while it entices the viewers & listeners to push play to start this game!   I know I was ready to chomp my way through this record and try to make it through to the last level.  
I was completely floored by all of the classic arcade sounds that came straight from the Atari and Commodore 64 systems.   Go To 10 is just a crazy album because Jive64 is combining a virtual world of gaming and dance.   Cohen and company have created a digital world that will make you break out your parachute pants & high tops, bust a move and then blow the dust off that Atari or in my case, Coleco Vision.   Amazing connection between all elements here, which I simply loved!
I'd also like to mention that two singers on the album, Ellita (Ella Tadmor) and her sister Dharma (Hadar Tadmor), add a nice layer of melodies to the mix.   It's also worth noting that Jive64 put its own spin on three songs: "Crazy In Love" (Gotmelooking Remix) by Jay-Z & Beyonce, "Any Love" (Jive64 Remix) by Rufus & Chaka Khan and "Turn It Into Love" by Kylie Monogue.   The Jive64 Remix of "Any Love" is the last track on the record and I would say Jive64 goes out with a bang!   The song is a party-driven hook with even the robot sound effect thrown in for fun.   I love the robotic sounds in music, I say let's bring that shit back man!   Maybe I'm stuck in the 80s still myself–ha-ha.
For more on Jive64 and their latest release of Go To 10, SKOPE out www.jive64.com.  
By Jimmy Rae
[Rating: 4/5]