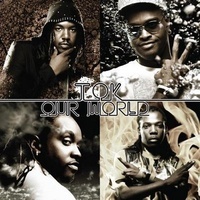 After a four-year hiatus, dancehall supergroup, T.O.K. is back with their third highly-anticipated album, "Our World," which releases on August 25th.  
 
Since their 2001 debut album, "My Crew, My Dawgs," T.O.K., which comprises of members Alex, Bay-C, Flexx and Craigy T., have taken not only the U.S. and Caribbean by storm, but the entire world, which makes "Our World" a very fitting title.
 
In the second track, "World Is Mine," the foursome gives off a strong and confidant air of T.O.K. that by no means sounds as cocky as it may seem. A message to those that thought the group disappeared since their sophomore release, "Unknown Language" in 2005, the fellas sing, " the world is mine, watch me take it…can't stop me, I'm gonna make it." They also add that they are "unstoppable, unpredictable, invincible…"
 
"Guardian Angel," which is noted as the "#1 ringtone in Japan," has a soft, melodic beat, leaning more towards R&B: "send me a guardian angel, give us some strength from above. Send me a guardian angel, send me some help from above."
 
"Our World" is a balanced blend of slow jams, upbeat party songs and street anthems, such as "Me And My Dawgs" and "Gangsters Never Die."
 
T.O.K. would not be T.O.K. without giving praise to the ladies, as in "Afternoon Pornstar." Don't judge the song until you've heard it, as it's not the raunchy, sex-laced track that one might think it is. The song, instead, gives ode to women that are good lawyers and teachers, etc. that also want to show their "wild sides" to the man in their lives. In the hook, the guys sing, "Every girl wants to be an afternoon pornstar…and wake up normal in the morning."
 
"Live It Up," the final track on the album, is a meaningful piece that sends a message, just as "Footprints" did on T.O.K.'s 2005 "Unknown Language" release. The four send a message of peace, and "pray for the day there'll be no war," and also "pray for the day we'll find the meaning of life, and live it up."
 
A solid 16-track gem, "Our World" is truly in T.O.K.'s hands.
For more on T.O.K., visit www.vprecords.com.
 
Author: Erika Y. Gradecki
[Rating: 5/5]